Black Bears sweep Generals to move onto East Finals
April 26, 2023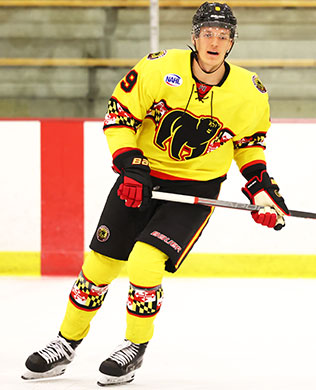 East Division Semi-Finals, Game 3: Maryland 3 @ Northeast 1 (Maryland wins series, 3-0) – The Maryland Black Bears punched their ticket to the East Division Finals as they picked up a 3-1 road win in Game 3, completing a sweep of the Northeast Generals.
In the 1st period, the Black Bears took advantage of a power play and grabbed a 1-0 lead as Gabriel Westling got free on the side of the net and took a pass from behind the net from Brayden Stannard and one-timed a shot home that barely snuck by Generals goalie Cullen DeYoung.
In the 2nd period, the Generals answered back to tie the game as a nice individual effort from Jared Scott saw him dance through the Black Bears defense and slip a backhand shot past Maryland goalie William Hakansson to knot the game at 1-1. Assists went to Nick Ramm and Jacob Kaminski. However, that would be all the offense the Generals could muster. The Black Bears regained the one-goal lead with just :18 seconds remaining in the 2nd period as Samuel Stitz poked home a rebound with assists to Gabriel Westling and Branden Piku for a 2-1 lead.
In the 3rd period, the Black Bears put the game on ice as they would again take advantage of a power play as Christian Catalano hammered home a one-timer on a nice pass from Trey Scott and Brad McNeil to make it a 3-1 final.
Hakansson stopped 23 of 24 shots in the win for the Black Bears, while DeYoung made 30 saves in his final NAHL game.
The Black Bears now await the winner of the Maine/New Jersey series as they go back home for Games 1 and 2 of the East Division Finals.