Minot goalie Rupprecht makes NCAA DI commitment
April 26, 2023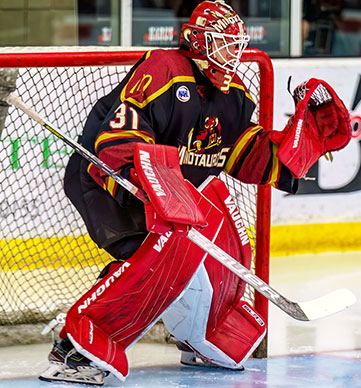 The Minot Minotauros of the North American Hockey League (NAHL) are proud to announce that goaltender Noah Rupprecht has committed to play NCAA Division I hockey for Long Island University.
Rupprecht becomes the first Tauro to commit to L.I.U. and third to play for the school along with Zack Bross and Tyler Kostelecky who both committed to L.I.U. after their time as Tauros. Overall Rupprecht becomes the 97th Tauro to make an NCAA DI commitment.
"I was drawn in by the opportunity for a great education and to study what I'm passionate about. The school looks beautiful! It is on Long Island, so it's close to the beach and city, which is something I've never experienced. It looks like a tight knit community on campus. I plan to study and obtain a degree in sports management," said Rupprecht.
After a slow start in his first four games as a Tauro in December Rupprecht turned both his and the team's fortunes around. Over his final 15 appearance Rupprecht posted a .927 SV%, his numbers were even better during a 6-1-0 stretch to end the season in which he posted a .941 SV% and 1.978 GAA to pull the Tauros back into the Robertson Cup Playoffs.
"I was convinced I wanted to commit to L.I.U. because I heard nothing but great things about the program and the way it's trending up! They're building a great culture there and I wanted to be a part of something special. I felt like it was the right place for me and my future," continued Rupprecht.
"We are incredibly proud and excited about the opportunity Noah has earned with L.I.U. Since he got here in December he has brought fantastic energy, positivity and work ethic into our locker room. He has also been a big part of the group's success in the second half of the season. L.I.U. is adding a tireless worker and a genuine person to their hockey program and campus community. We look forward to continuing to help Noah develop and prepare for college hockey over the course of the rest of the playoffs," said Tauros Head Coach/General Manger Cody Campbell.
Rupprecht believes he has Campbell and the rest of the organization for helping him achieve his goal. "Being a Tauro has been so huge in my development. The way we are treated every single day is second to none. We have unlimited resources to be successful and to help us put in full effort daily. Being in Minot has been one of the best experiences in my life and I'm truly blessed to have called this place home."
"First and foremost I would like to thank God and my Family! The endless dedication and support they have provided throughout my journey thus far has been one of a kind. I wouldn't be in this position without any of them! I would also like to thank my teammates and the Minot organization for all of their support and pushing me to become the best person and athlete I can be. Lastly, I would like to thank my previous coaches and mentors that have always given their time to help me improve in any way I can," said Rupprecht.
Rupprecht, 20, had played two previous seasons in the NAHL, both with the Odessa Jackalopes during the 2021-22 and 2020-21 seasons. In three NAHL seasons, he appeared in 51 career regular season games and posted a 19-25-1 record with a 3.03 goals against average and a .906 save percentage.
Click here for an updated NAHL to NCAA commitment list