St. Cloud forward Konkel makes NCAA commitment
April 13, 2023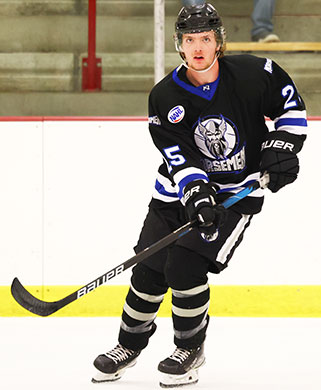 The St. Cloud Norsemen of the North American Hockey League (NAHL) are pleased to announce that forward Jeremiah Konkel has committed to play NCAA Division III hockey for Bethel University.
Konkel's 2022-23 season came to an end at the end of January due to injury, but he doesn't shy away from expressing his enthusiasm to become a Royal in the fall.
"I've got a great relationship with the coach there, Chris McKelvie. I've been kinda talking to them since senior year of high school. I've been on campus, I love the area, I love the school, I've gotten a chance to meet some of the guys there and I think it's a really good fit for me," explains Konkel. "Obviously from the faith standpoint too, that's a big factor for me that I'm drawn to specifically at Bethel. I love the rink there, I love the guys there, I love the coaching staff and I think it's a great fit for me. I'm excited."
The injury, which came in a home contest against the North Iowa Bulls on January 27th, was a tough break for Konkel, who had been as dependable as you can ask for up to that point of the season. Konkel appeared in the first 36 regular season games for the Norsemen and was vital for them in several areas, particularly defensively.
St. Cloud Norsemen Assistant Coach Brock Kautz talks about how valuable Jeremiah was when he was out on the ice for St. Cloud. "Konks, he plays up the middle and we rely on our centers a lot at both ends of the ice and he took a lot of pride in that. He also was big in killing penalties for us, so, another piece that we're missing for sure," Kautz admits. "It was a tough one to handle, injuries are a part of the game. We're fortunate that we have kids that have the 'next man up' mentality and when their number is called they're ready to go. But we for sure miss having him in the lineup."
Konkel put up 5 goals and 12 points with a +5 rating in his first season in the NAHL after spending two seasons with the Willmar Warhawks in the NA3HL. In his second Warhawks season he had a stat line of 25-27-52 in 43 regular season games, totalling 30-39-69 in 78 games played in his NA3HL career. Prior to his junior career Konkel played his freshman year of high school at Minnehaha Academy and spent his last three years competing for Southwest Christian High School in Richfield, MN.
Despite the injury that brought his season to an end prematurely, Konkel's keeping positive about his situation and looking to start the season on time for Bethel University in the fall. "I've been doing a lot of PT (physical therapy) through Tria (Orthopedic Center) these last two months and it's feeling good. My MCL is recovering really well; I've been able to get in workouts and I've actually gotten on the ice now, just kinda starting slow and working up to a good pace," Konkel describes the process. "It's just been day-by-day; trying to get stronger, more flexible, trying to get my knee back to where it was. Definitely ups and downs throughout the whole process. When the knee went down, other parts of my body started feeling not so well too; just all part of how things are kinda connected. But I'm feeling good now. I've been doing a lot of stuff training-wise; a lot of PT. I think I'm kind of on the up and up here as far as recovery goes and then I'm gonna hit spring and summer as hard as I can to get ready for college."
Kautz feels that Bethel is getting someone who will be as valuable to their program off the ice as he is on the ice. "Jeremiah, he works his butt off, he gives an honest effort every time he's on the ice. You always know what you're gonna get out of him. He gets up and down the ice super well, he's a great skater, he's got good stick skills, and when you put those things together it makes for a dynamic hockey player like he is," compliments Kautz. "The best qualities that he has are that he's a man of character, he's always doing the right thing, he's super well liked by his teammates. Respectful, responsible, coachable; all of the things that you look for in a kid. Bethel's getting a heck of a player but an even better person."
Bethel plays in the Minnesota Intercollegiate Athletic Conference (MIAC) but hockey isn't the only reason Konkel is looking to matriculate there. "I plan on going into biokinetics, they've got a great biokinetics program there. Their whole health sciences are fantastic as well as the business side of that so, for me, I am latching on to that," Konkel explains. "As far as the schooling goes, I have done a couple visits and tours. I love the campus, it's a beautiful campus, the layout is great, it's a great size. And as I said, the faith aspect is the big picture for me so I'm looking forward to that."
Click here for an updated NAHL to NCAA commitment list