Odessa defenseman Marino makes NCAA commitment
April 11, 2023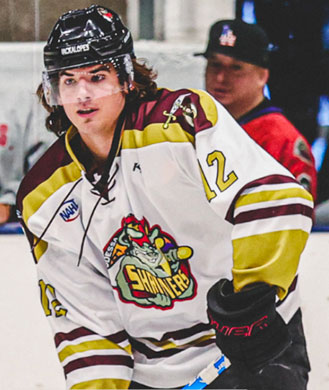 The Odessa Jackalopes, a proud member of the North American Hockey League (NAHL), would like to congratulate Noah Marino on his commitment to playing NCAA Division III hockey for Trine University. Marino is the fourth Jackalopes player to commit for the 2022-23 season.
Marino, 21, is in his fifth and final season in the NAHL. The Lemont, IL native started his NAHL career in 2018-19 by playing four games (2 assists) for the Springfield Jr. Blues.
Marino spent the following season playing 46 games for the Jr. Blues and produced seven points (2 goals, 5 assists).
During the 202-21 season, Marino spent seven games with the Amarillo Bulls and one game with the St. Cloud Norsemen. The 6'1"/200lb. right-handed defenseman returned to the Jr. Blues in 2021-22 and played 58 games for them (5 goals, 10 assists).
Marino started the current 2022-23 season playing 23 games for Springfield (2 goals, 1 assist) before joining the Odessa Jackalopes. With the Jacks, Marino has played 18 games so far and has produced four points (3 goals, 1 assist). In total, Marino has played in 157 NAHL games and has tallied 31 points (12 goals, 19 assists).
Trine University is located in Angola, IN. The Thunder play in the Northern Collegiate Hockey Association (NCHA). Their roster from this past season included 11 players from the NAHL. They were nationally ranked 15th in DIII this past season which is the first time in program history. The Thunder are led by Head Coach Alex Todd, who has been with the team since they started their first season in 2017-18.
"I am excited to announce my commitment to further my education and play NCAA Division III hockey for the Trine University Thunder. Playing junior hockey in the NAHL has been an incredible experience and journey that has brought me memories and friends that I will always be able to look back on," said Marino. "Finally, I would like to thank my coaches, family, and friends who have supported me and helped make this all possible."
Head Coach Scott Deur stated this regarding Marino's commitment, "I'm excited for Noah, he's a kid that is willing to put in the extra work on and off the ice. He has been very good for us since joining the team and we are excited to see what he will do at the next level."
Click here for an updated NAHL to NCAA commitment list