NAHL Alumni Update: Frozen Four
April 6, 2023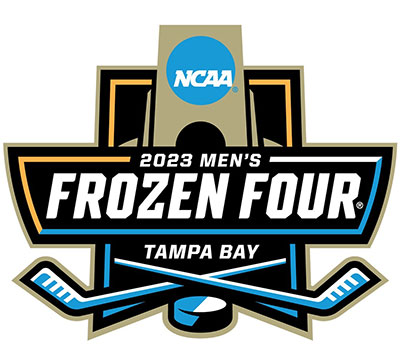 The 2023 NCAA Frozen Four, the national championship for Men's Division I ice hockey, will take place April 6 and 8 at Amalie Arena in Tampa, Florida.
The four-team field is set. Boston University, Quinnipiac University, the University of Michigan, and the University of Minnesota are still competing for the title.
Frozen Four Schedule
April 6: Boston vs. Minnesota, 5pm
April 6: Michigan vs. Quinnipiac, 8:30pm
April 8: Championship Game, 8pm
A total of 20 NAHL alumni will be taking part in the Frozen Four. All 16 teams that began the tournament two weeks ago had at least one NAHL alumni on their roster. In total, 110 NAHL alumni were on the 16 rosters of teams that began the event.
NAHL alumni breakdown of Frozen Four teams:
Michigan: 7
Boston: 5
Minnesota: 4
Quinnipiac: 4
Some of the prominent alumni in the event include Boston University forwards Matt Brown and Wilmer Skoog. Brown (Odessa Jackalopes) is 2nd in scoring on the team with 46 points and Skoog (Maryland/Minot) is tied for the goal scoring lead with Brown with 16. Michigan defenseman Keaton Pehrson (Austin Bruins) is one of the defensive leaders for the team. Minnesota defenseman Carl Fish (Bismarck Bobcats) has been solid along the blue line. Quinnipiac forward T.J. Friedman (Springfield Jr. Blues) is 7th in team scoring with 22 points in 39 games played this season.
The only other junior league in North America with more alumni playing in the NCAA Division I Championship Tournament than the NAHL is the USHL. In addition, 38% of freshmen playing NCAA Division I hockey are alumni of the NAHL.