Generals boost playoff chances with 2--1 win on Tuesday
April 5, 2023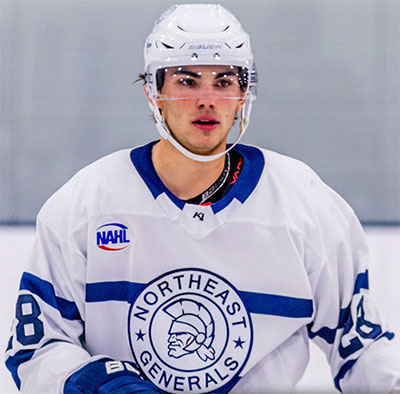 Maine 1 @ Northeast 2 – The Generals gave their playoff chances a big shot in the arm on Tuesday as they got 31 saves from goalie Cullen DeYoung in a 2-1 win over Maine. The win tied the Generals with the Nordiques for 3rd in the East Division, with each team now having 65 points.
The Generals took a 1-0 lead on a power play goal from Sixten Jennersjo in the 1st period with assists to Bryceon Lago and Ryan Remick.
In the 2nd period, the Generals went ahead 2-0 on a goal from Tyler Ramm with assists to David Andreychuk and another assist for Remick.
Maine drew to within 2-1 midway through the 3rd period on their lone goal from Kellen Murphy.
Nordiques goalie Kael DePape made 19 saves in the loss.