Steel move into 3rd place thanks to Sasaki's big night
April 2, 2023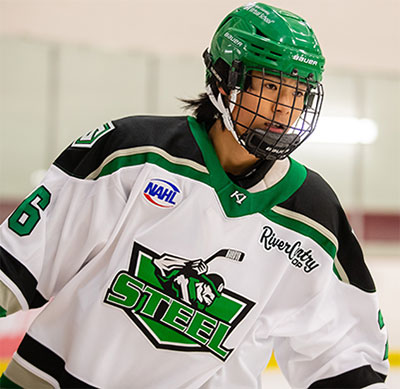 Chippewa 6 @ Anchorage 2 – The Chippewa Steel moved into 3rd place in the Midwest Division thanks to a 6-2 win on Sunday in Anchorage as they took two of three games in a road series against the Wolverines. Steel forward Kazumo Sasaki was the star of the game for the Steel, netting a hat-trick, including the game-winning goal.
In the 1st period, the Wolverines took an early 1-0 lead less than two minutes into the game as Jackson Reineke netted his 31st goal of the season.
In the 2nd period, Sam Rice would tie the game at 1-1 thanks to a power play goal, which was his 27th of the season.
In the 3rd period, Sasaki scored back-to-back goals to put Chippewa ahead 3-1. Anchorage answered back with a goal from Camerson Morris to make it a 3-2 game, but the Steel would pull away later in the period with goals from Kade Nielsen, Logan Cleary, and an empty-netter from Sasaki to complete the hat-trick.
Steel goalie Carter Wishart made 35 saves in the win, while Shane Soderwall made 43 saves in the loss.