Wranglers, Norsemen, Brahmas win on Thursday
March 30, 2023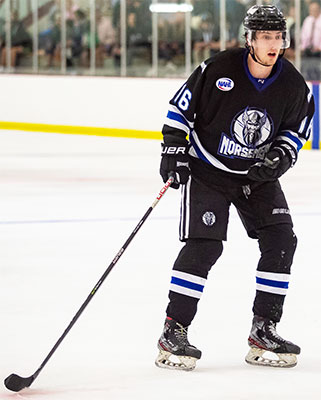 Amarillo 4 @ Corpus Christi 3 – Thanks to two goals from Ben Ivey, the Wranglers spoiled the IceRays school day game in front of over 7,800 fans as they kept their playoff hopes alive with a 4-3 win. The IceRays got the crowd going early as less than a minute into the game, Nate Murray scored. The Wranglers then rattled off three straight goals to take a 3-1 lead as Jase Sofo, Luke Morris and Ivey scored. Corpus Christi made it 3-2 later in the 2nd period on a goal from Dylan Contreras, but Ivey had another answer later in the period to make it 4-2. In the 3rd period, a goal from Logan Neilson made it 4-3, but that's as close as the IceRays would get. Connor McDonough made 17 saves in the win, while Patrik Jurcak made 34 saves in the loss.
Austin 2 @ St. Cloud 4 – The Norsemen closed in on a playoff spot as Kade Peterson scored twice in a 4-2 win on Thursday. After a scoreless 1st period, the majority of the goals all came in the 2nd period as the Norsemen got goals from Daniels Murnieks, Blake Perbix, and Peterson, while the Bruins got goals from Sam Christiano and Jackson Luther to make it a 3-2 contest after two periods. In the 3rd period, Peterson would score again on a late empty-net goal. Norsemen goalie Ethan Dahlmeir made 20 saves in the win, while Adam Prokop made 30 saves in the loss.
Lone Star 5 @ Odessa 1 – Jacob MacDonald scored twice as the Brahmas dealt a big blow to the Jackalopes playoff hopes thanks to a 5-1 road win in Odessa. It was all Brahmas in the 1st period as they scored four goals to take a 4-0 lead as Jacob MacDonald scored twice and Matthew MacDonald and Ryan Comishock also had a goal. In the 2nd period, the lead swelled to 5-0 as Dhillon Wilde added a power play goal. Odessa netted their lone goal of the game midway through the 3rd period on a goal from Justin Hughes. William Gramme made 18 saves in the win, while Gergely Orosz made 16 saves in the loss.