Titans clinch playoff spot with 6-2 win over Danbury
March 29, 2023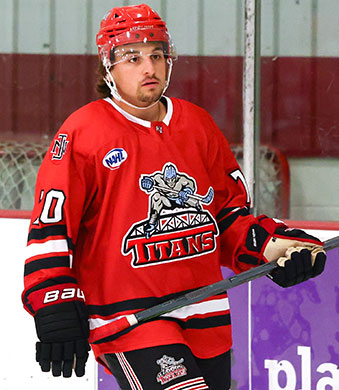 Danbury 2 @ New Jersey 6 - Six different players scored to lead the Titans to a 6-2 win over the visiting Danbury Jr. Hat Tricks on Tuesday and clinch a spot in the 2023 NAHL Robertson Cup Playoffs.
The game didn't start the way the Titans had wanted as Danbury scored just forty-five seconds into the first period as David Overbeeke took a quick shot that beat Zakari Brice shortside for Overbeeks' second goal of the season.
The Titans then went onto score five consecutive goals beginning with 6:34 remaining in the opening period off the stick of Ethan Wongus.
Early in the 2nd period Brendan Dumas gave the Titans the lead for good as Brendan Dumas took a wrist shot that beat Karlis Mezsargs high blocker side for Dumas' fourteenth goal of the season. The Titans scored the second powerplay goal of the game with 8:51 remaining in the middle stanza. Ben Muthersbaugh picked up the loose puck in Danbury's far side corner and sent it back to Luik at the point. Owen Luik took a clapper that was saved by Mezsargs but the puck bounced out of his glove and right to Ryan Novo on the doorstep and Novo slammed home the rebound into the back of the net for his ninth goal of the season. Joe Harney gave the Titans a 4-1 lead with their third powerplay goal of the night with just twenty-eight seconds left in the second.
Matej Teply made it 5-1 Titans at 4:59 into the third period for his first NAHL career goal. Overbeek scored his second goal of the game with 7:39 left in the contest to make it 5-2, and Johnny McMahon lit the lamp with 2:16 remaining to make it 6-2 and close out the scoring.
Brice and Marino Ramirez combined to stop 29 of 31 shots while Mezsargs turned aside 36 of 42.