Maryland completes three-game sweep of Johnstown
March 19, 2023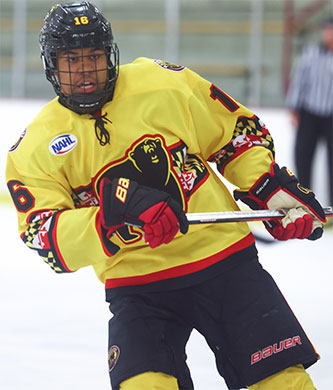 Johnstown 1 @ Maryland 6 - The Maryland Black Bears looked to conclude its three-game set against its East Division rival in the Johnstown Tomahawks on a high note as the two teams faced off on a Sunday afternoon, the second time these two teams have met in a Sunday matinee this season. And once again, it was the Maryland Black Bears riding a strong offensive performance for a 6-1 win to complete the three-game sweep.
Black Bears' forward and captain Brad McNeil got the scoring started in the first period with a rebound goal on the powerplay to make it 1-0. Then ten seconds into the second period, Johnstown goalie Adam Johnson mishandled the puck behind his own net, leading to a tap-in goal by Maryland forward Jesse Horacek to make it 2-0. Black Bears' forward Adam Schankula recorded the team's second powerplay goal of the game by redirecting a slot shot by forward Dimitry Kebreau to make it 3-0.
In the third period, Tomahawks' forward Anthony Galante got Johnstown on the board with a powerplay goal on a breakaway to make it 3-1. Maryland put the game out of reach with its third powerplay goal of the game, this time on a rebound goal from the far side of the net by Jesse Horacek to make it 4-1. Black Bears' forward Samuel Stitz added icing on the cake with a goal off a faceoff, chipping a loose puck home for a 5-1 lead. The goal saw Maryland forward Magnus Gadowsky record his first goal of the season with an assist on the goal. Black Bears' forward Kareem El-Bashir capped the scoring off with a snapshot to the top right corner to make it 6-1, a score that would hold up to be the final. Maryland goaltender Jack Weineke made 35 saves in the winning effort.