March 17, 2023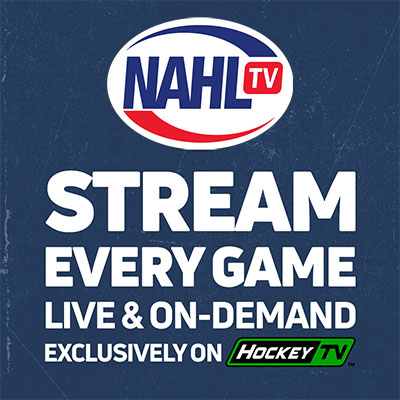 Just one month remains until the 2023 NAHL Robertson Cup Playoffs and 15 of the 16 playoff spots are still up for grabs.
This weekend features 27 games on the schedule as more teams look to clinch a playoff berth.
It was another outstanding week for NCAA commitments as seven more players made their plans known. So far, a total of 221 players who are playing in the NAHL or are NAHL alumni are committed to play NCAA hockey. That number includes nine players who recently played in the 2023 NAHL Top Prospects Tournament.
In the Central, the North Iowa Bulls have won three straight games and are now in a tie for 3rd place in the division with Aberdeen as the two teams will tangle in Mason City this weekend. The 1st place Austin Bruins are at home and look to clinch a playoff spot as they host the last place Bismarck Bobcats. The 2nd place St. Cloud Norsemen are in Minot for a pair of games against the Minotauros, who are five points out of the playoff spot.
In the East, there is a big three game series in Maryland, with the 1st place Black Bears hosting the 5th place Johnstown Tomahawks with the Tomahawks nine points out of the 4th and final playoff spot with 13 games remaining. The 3rd place Maine Nordiques have won three in a row and make a visit to Danbury this weekend. The final series has the 2nd place New Jersey Titans on the road to face the 4th place Northeast Generals.
In the Midwest, streaking teams collide as the Chippewa Steel put their four-game winning streak on the line in Minnesota against the Wilderness, who have won five in a row. The 1st place Wisconsin Windigo will host Janesville, who is just four points out of the final playoff spot. The Fairbanks Ice Dogs look to keep hold of their playoff spot as they host the Springfield Jr. Blues.
In the South, the Shreveport Mudbugs look to continue their hot play and quest for 2nd place as they host the El Paso Rhinos. The Oklahoma Warriors look to extend their four-game winning streak as they continue their four-game winning streak as they host the Amarillo Wranglers for two more games of a three-game set, which began on Thursday with a 5-0 win. 2nd and 4th place will meet in Texas as Lone Star hosts New Mexico. The final series has Corpus Christi in Odessa as the IceRays look to snap a nine-game losing streak,
Watch all the action on HockeyTV
Download the all new NAHL App today! (iOS - Google Play)
Friday, March 17
Maine at Danbury - 7:00 PM EDT
Johnstown at Maryland - 7:00 PM EDT
New Jersey at Northeast - 7:00 PM EDT
Janesville at Wisconsin - 7:00 PM CDT
Bismarck at Austin - 7:05 PM CDT
Aberdeen at North Iowa - 7:10 PM CDT
El Paso at Shreveport - 7:11 PM CDT
Chippewa at MN Wilderness - 7:15 PM CDT
Corpus Christi at Odessa - 7:15 PM CDT
Amarillo at Oklahoma - 7:15 PM CDT
New Mexico at Lone Star - 7:30 PM CDT
St. Cloud at Minot - 7:35 PM CDT
Springfield at Fairbanks - 7:30 PM AKDT\
Saturday, March 18
Maine at Danbury - 3:00 PM EDT
Johnstown at Maryland - 5:00 PM EDT
New Jersey at Northeast - 7:00 PM EDT
Janesville at Wisconsin - 7:00 PM CDT
Bismarck at Austin - 7:05 PM CDT
Aberdeen at North Iowa - 7:10 PM CDT
El Paso at Shreveport - 7:11 PM CDT
Chippewa at MN Wilderness - 7:15 PM CDT
Corpus Christi at Odessa - 7:15 PM CDT
Amarillo at Oklahoma - 7:15 PM CDT
New Mexico at Lone Star - 7:30 PM CDT
St. Cloud at Minot - 7:35 PM CDT
Springfield at Fairbanks - 7:30 PM AKDT
Sunday, March 19
Johnstown at Maryland - 2:00 PM EDT