NAHL alum Zmolek signs NHL contract with Flyers
March 8, 2023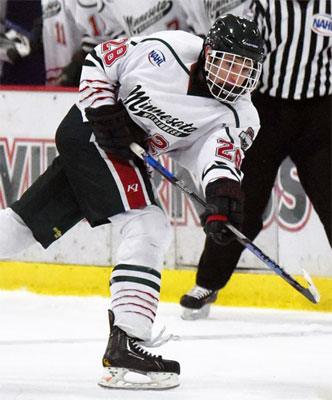 The Philadelphia Flyers announced the club has signed defenseman and NAHL grad Will Zmolek to a one-year entry-level contract beginning with the 2023-24 season. Zmolek will report to Lehigh Valley of the American Hockey League (AHL) for the remainder of the 2022-23 season.
Zmolek, 23, served as an alternate captain and collected 21 points (4-17=21), 24 penalty minutes (PIM), two power-play goals (PPG), one shorthanded goal (SHG) and one game-winning goal (GWG) in 36 games this season with Bemidji State University of the Central Collegiate Hockey Association (CCHA).
The 6-foot-4, 209-pound native of Rochester, Minn., led the Beavers in blocked shots (64), ranked third in assists, fourth in scoring, T-5th in PPG and was one of two players to net a SHG. The left-shot blueliner recorded a career-high three points (2-1=3) Feb. 25 at St. Thomas, including a power-play goal and a shorthanded goal and recorded six points (1-5=6) in a career-high four-game point streak, Dec. 3-15. He was named CCHA's Defenseman of the Month for December 2022 and Defenseman of the Week on Nov. 14, 2022.
Zmolek was also a 2023 Hobey Baker nominee. He registered 46 points (9-37=46) in 126 career games with the Beavers (2019-23) and earned Defenseman of the Week honors (March 8, 2022) during the 2021-22 season, named to the WCHA All-Academic Team following the 2020-21 season and was named an AHCA Division I Krampade All-American Scholar following his freshman season in 2019-20.
"It was actually pretty quick," Zmolek said of deciding to sign with Philadelphia. "... We were at the rink (in Bemidji) in the morning, had a last full-team meeting, then I was out at lunch with my teammates, guys in my class, and my agent called and said (Philadelphia) had offered. I went out to my car and called my parents and said 'I think this is the right spot for me. It's a no-brainer to say yes.'"
Zmolek appeared in 14 NAHL regular season games with the Minnesota Wilderness during the 2016-17 season. He made his NAHL debut on November 5, 2016, and scored his first NAHL goal on March 25, 2017. He also appeared in 10 Robertson Cup Playoff games for the Wilderness during the 2017 Playoffs.