Krbecek, Rebels extend shutout streak with win on Tuesday
March 8, 2023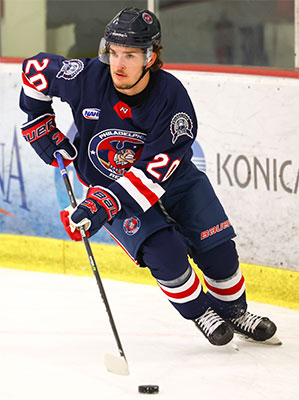 Philadelphia 4 @ New Jersey 0 - On Tuesday night, the Philadelphia Rebels (23-23-1-1, 48 pts) and the New Jersey Titans (29-15-1-2, 61 pts) wrapped up their season series with a 4-0 Rebels victory and Jakub Krbecek's fourth-straight shutout.
The Rebels goaltender made 40 saves to blank the Titans for the second time in a week and extend his scoreless streak to 251 minutes and 36 seconds.
While being outshot in the first, Philadelphia was still able to come out of the period with the lead. Max Hamstad got the scoring started with 11:55 to go in the first. Luke deVries found Hamstad in the slot, who reached the back of the net. It was Hamstad's 10th goal of the season.
The Rebels were able to generate more offensive pressure in the second period as they came away with two goals in the period. Connor Sedlak netted the first of the period, his 18th of the season, to push the lead to two.
With just under four minutes to go in the period, Klaus Jogi buried a breakaway chance into the back of the net to give the Rebels a 3-0 lead. The goal was his 10th of the season, and second point of the night.
Klaus Jogi added another goal late in the third period for his third point of the game, but Krbecek was the star of the show once again. Marino Ramirez made 26 saves in the losing effort for the Titans.