Nordiques move into 3rd with OT win on Thursday
March 3, 2023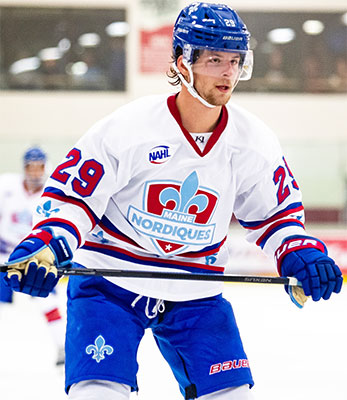 Johnstown 6 @ Maine 7 (OT) – The Maine Nordiques moved into sole possession of 3rd place in the East thanks to a 7-6 overtime win in the lone NAHL game on Thursday.
It only took 29 seconds Thursday night for Maine's Hunter Fetterolf to find the back of the net and give the Nordiques an early lead. Nick Ahern responded not once, but twice for the Tomahawks, scoring the team's first goals since February 18 against the Maryland Black Bears after being outscored 10-0 by the New Jersey Titans last weekend. Alexy Yarmulnik scored, tying the game for the Nordiques 1:24 after Ahern's second goal, sending the game into the second period knotted at 2.
Brendan Gibbons regained the lead for the Nordiques with a power play goal 4:06 into the middle frame, but the Tomahawks responded again with a power play goal of their own from Tyler DesRochers. Just 61 seconds later, Fetterolf scored his second goal of the game, making for three goals in 2:28. Anthony Galante netted yet another power play goal for the Tomahawks as his 20th of the season tied the game at 4 to end the second period.
Filip Wiberg gave Maine the lead 26 seconds into the third period with another power play goal on a penalty assessed to Anthony Galante at the end of the second period. DesRochers knotted the game right back up at 5 with his seventh goal of the season 41 seconds later for another quick response by the Tomahawks. Anthony Achille gave the Nordiques a 6-5 lead 6:14 into the third period. Then with just 5.7 seconds remaining in regulation, Will Lawrence ties the game at 6 to force overtime.
With just :54 seconds remaining in OT, Aidan Coupe netted his 11th goal of the season for the game-winner.
Thomas Heaney mad 25 saves in the win, while Alec Rajalin-Scharp made 32 saves in the loss.