March 1, 2023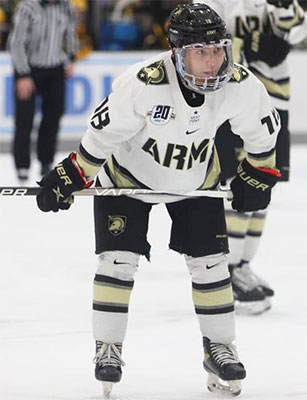 NHL Rookie of the Month: Mads Sogaard, G, Ottawa (Austin Bruins) - Ottawa Senators goaltender Mads Sogaard, who went 4-0-1 with a 2.33 goals-against average and .922 save percentage in six appearances (five starts), has been named the NHL's Rookie of the Month for February. Sogaard edged Arizona Coyotes teammates Connor Ingram (2-1-2, 2.41 GAA, .935 SV%, 1 SO) and Matias Maccelli (1-7—8 in 10 GP), Buffalo Sabres right wing Jack Quinn (3-5—8 in 10 GP), Anaheim Ducks center Mason McTavish (3-4—7 in 11 GP), and Calgary Flames left wing Jakob Pelletier (3-4—7 in 11 GP) for the honor. Sogaard, who made his season debut (in relief) Feb. 11 and first start of 2022-23 Feb. 13, became the fourth rookie goaltender in Ottawa history to earn points in his first five or more decisions of a campaign, following Ray Emery in 2005-06 (6-0-1), Robin Lehner in 2012-13 (2-0-4) and Jani Hurme in 2000-01 (3-0-2). Sogaard, who previously made two NHL appearances in 2021-22 (1-1-0, 3.07 GAA, .889 SV%), recorded at least 30 saves in three of his five February starts and also yielded two or fewer goals three times, capped by a run of three straight wins to close the month (Feb. 19-28: 1.67 GAA, .938 SV%).
Atlantic Hockey Rookie of the Month: Max Itagaki, F, Army West Point (Janesville Jets) - Army West Point freshman Max Itagaki tallied two goals and an Atlantic Hockey-best 10 assists in the month of February. The Glenview, Ill., native ended the month as the AHA freshman record holder for assists in a season with 29. Itagaki collected multiple points in four of nine games, including a career-high three points with three assists against Mercyhurst on Feb. 18. He tabbed an overtime winner in the other fixture versus the Lakers and posted back-to-back two points games against Sacred Heart and Holy Cross earlier in the month. This is his second career Atlantic Hockey monthly honor.
CCHA Rookie of the Month: Lleyton Roed, F, Bemidji State (Minnesota Magicians) - Roed collected his second straight Rookie of the Month honor after leading all CCHA freshmen with 10 points on five goals and five assists, with a +3 rating. Second among all skaters in points and assists, he was third in goals and power-play goals (2), as well as fifth in shots (24). He had three multi-point games during the month, including a career-high four points in a 7-2 victory at St. Thomas on February 25, scoring two goals and assisting on two more.
NCHC Goalie of the Month: Ludvig Persson, Miami (Lone Star Brahmas) - Persson averaged nearly 39 saves per game for Miami in February, eight more than any other NCHC goalie, while helping the RedHawks earn points in the NCHC standings in four of his five appearances. Persson led the NCHC with a .946 save percentage in February, which was ninth nationally, while his 2.14 goals-against average was second in the conference. The Swede racked up 194 saves in February in only five games, the most saves in the NCHC this month. He went 1-2-2 in net, with one of the losses coming in overtime. Persson backstopped Miami to a pair of ties at then-No. 5 St. Cloud State to open the month on Feb. 3-4, which snapped the RedHawks' 11-game losing streak at SCSU. He made 30 saves both nights, giving up only one goal in the series finale, while the opener needed a 10-round shootout to decide the extra standings point and Persson turned SCSU aside on the first nine attempts. In his lone game against then-No. 15 Omaha on Feb. 18, he made 49 saves after missing the series opener due to illness, as Miami was edged in overtime, 3-2. Persson saved his best for last, making 35 saves in a 3-2 loss at Minnesota Duluth on Feb. 24, before turning aside a season-high 50 of 51 shots in the finale as Miami snapped a 12-game winless skid with a 4-1 victory. The 50 saves are the most by an NCHC goaltender this season and earned Persson Co-Goaltender of the Week in the NCHC.
Atlantic Hockey Rookie of the Week: Jay Ahearn, F, Niagara (Johnstown Tomahawks) - Niagara's Jay Ahearn had four assists in the Purple Eagles' series with Mercyhurst to wrap up the regular season. Three of the Staten Island, N.Y., native's four helpers came in the series finale as Niagara skated to a 5-3 win to clinch the No. 6 seed in the AHA Postseason. Two of his three assists on Saturday were primaries, including one on the game-winning goal. This is his second career AHA weekly honor.
CCHA Forward of the Week: Louis Boudon, F, Lake Superior State (Northeast Generals) - Boudon paced all CCHA skaters with four points on a goal and three assists, while posting a +3 in Lake Superior State's road sweep of Ferris State last week. Registering six shots on goal, he opened the weekend with two helpers in a 3-2 overtime win on Friday, including setting up the game-winning tally. On Saturday, he was +2 with a goal and an assist in a 4-2 Lakers victory.
CCHA Rookie of the Week: Kyle Kukkonen, F, Michigan Tech (Minot Minotauros) - Kukkonen scored a CCHA-best two goals, including a game-winner, and was a +3 with nine shots on goal, which were both good for second among league skaters. On Friday, he broke a scoreless tie in the third period, helping Tech to a 2-0 victory. He then netted a shorthanded, game-tying goal on Saturday in an eventual 3-2 defeat.
ECAC Goalie of the Week: Ian Shane, Cornell (Bismarck Bobcats) - Ian Shane (So., Cornell) had a near-perfect weekend between the pipes for the Big Red, going 2-0-0 and allowing just one goal. Shane faced 36 shots and turned aside 35 of them for a .972 save percentage and a 0.50 goals against average through 120 minutes of play, earning his fourth clean sheet of the season. He backstopped the Big Red to a sweep in the final weekend of the regular season, including a 5-0 win and a 5-1 victory.