Rebels, Krbecek shutout Titans on Tuesday, 3-0
March 1, 2023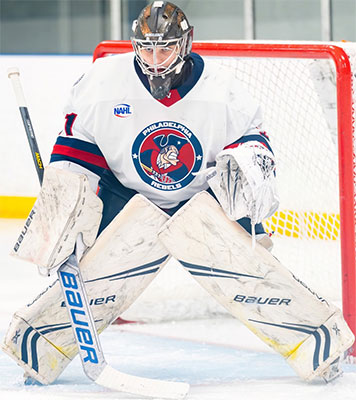 Philadelphia 3 @ New Jersey 0 - The Philadelphia Rebels finished the month of February with a 3-0 win over the New Jersey Titans on the road Tuesday night.
The Rebels netminder Jakub Krbecek answered everything the Titans had to offer on Tuesday, saving all 45 shots for his second shutout in his past three starts.
The Rebels were the first to score in the opening period, as Max Marquette scored his sixth goal of the season to give the Rebels a 1-0 lead just halfway through the first period.
In the second period, the Rebels were sent to the penalty kill six times and killed off each of those penalties. The Rebels kill benefitted from a number of huge saves from Jakub Krbecek to hold the lead going into the third period.
With little time to go in the second, the Rebels killed off a 5-on-3 Titans advantage, and Krbecek wrapped up the second period saving 32 of 32 shots.
In the final period, Dom Foglia extended the Rebels lead to 2-0 on a steaming one-timer. It was Foglia's ninth of the season, and came while the Rebels were on a two-man advantage halfway through the third.
New Jersey pulled their netminder Zakari Brice with 3:45 to play in regulation, and the Rebels capitalized with an empty-net goal from Connor Sedlak. It was Sedlak's 16th goal of the season, and closed the door on the Titans.
Brice ended up making 25 saves in the loss.