February 24, 2023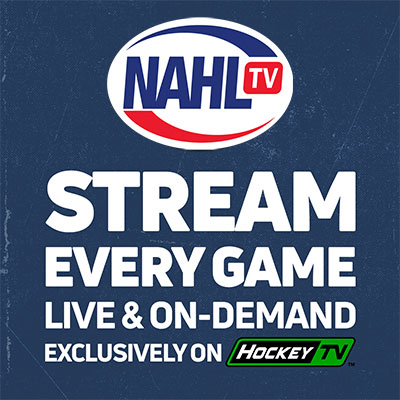 It is a busy weekend in the NAHL as 29 games are on the schedule from Friday-Sunday.
The Robertson Cup Playoffs are on the horizon and playoff spots are going to start being clinched soon.
It was another outstanding week for NCAA commitments as eight more players made their plans known. So far, a total of 203 players who are playing in the NAHL or are NAHL alumni are committed to play NCAA hockey. That number includes six players who recently played in the 2023 NAHL Top Prospects Tournament.
The 2023 Robertson Cup Playoffs begin on April 20th. The top four teams in each division will qualify for the playoffs.
In the Central Division this weekend, all six teams will be looking to start some streaks, which includes a home-and-home series against 1st place Austin and 3rd place St. Cloud. The Aberdeen Wings are one point ahead of St. Cloud for 2nd place and will host the last place North Iowa Bulls, whom they split with last weekend. The final series has Minot and Bismarck tangling in a home-and-home series as they are separated for the final playoff spot by just two points.
In the East, Maryland has a seven-point lead atop the division and will host Philadelphia. On Maryland's heels is New Jersey, who are 4-0-1 in their last five games and will host Johnstown. The final series has Danbury hosting the Maine Nordiques, who occupy the 4th and final playoff spot in the East.
In the Midwest, the playoff merry-go-round continues with the top 7 teams separated by just nine points. Chippewa can gain some major ground as they travel to take on the 1st place Wisconsin Windigo. The Springfield Jr. Blues travel north to take on the Minnesota Wilderness, who are in a tie for 2nd place. In Alaska, the Anchorage Wolverines are just a few points out of a playoff spot and put their 3-game winning streak on the line with a road series in Fairbanks. Kenai River will host Janesville two more times after picking up a late-minute 3-2 win in the series opener on Thursday.
In the South, Oklahoma's 15-game winning streak and home unbeaten streak will be put to the test this weekend as they host 3rd place New Mexico twice and the Lone Star Brahmas on Sunday. Prior to taking on the Warriors on Sunday, the Brahmas are on the road for a pair of games against the 4th place Shreveport Mudbugs, who sit just a point behind New Mexico for 3rd place. Odessa has won three straight and will look to continue their winning ways as they are on the road in El Paso. The final series has Corpus Christi in Amarillo with both teams trying to shake small losing streaks.
Watch all the action on HockeyTV
Download the all new NAHL App today! (iOS - Google Play)
Friday, February 24
Maine at Danbury - 3:30 PM EST
Philadelphia at Maryland - 7:30 PM EST
Johnstown at New Jersey - 7:30 PM EST
Austin at St. Cloud - 7:00 PM CST
Chippewa at Wisconsin - 7:00 PM CST
Lone Star at Shreveport - 7:11 PM CST
Corpus Christi at Amarillo - 7:15 PM CST
Minot at Bismarck - 7:15 PM CST
Springfield at MN Wilderness - 7:15 PM CST
New Mexico at Oklahoma - 7:15 PM CST
Odessa at El Paso - 7:00 PM MST
Anchorage at Fairbanks - 7:30 PM AKST
Janesville at Kenai River - 7:30 PM AKST
Saturday, February 25
Maine at Danbury - 3:30 PM EST
Johnstown at New Jersey - 7:00 PM EST
Philadelphia at Maryland - 7:30 PM EST
Chippewa at Wisconsin - 7:00 PM CST
St. Cloud at Austin - 7:05 PM CST
Lone Star at Shreveport - 7:11 PM CST
North Iowa at Aberdeen - 7:15 PM CST
Corpus Christi at Amarillo - 7:15 PM CST
Springfield at MN Wilderness - 7:15 PM CST
New Mexico at Oklahoma - 7:15 PM CST
Bismarck at Minot - 7:35 PM CST
Odessa at El Paso - 7:00 PM MST
Anchorage at Fairbanks - 7:30 PM AKST
Janesville at Kenai River - 7:30 PM AKST
Sunday, February 26
North Iowa at Aberdeen - 3:00 PM CST
Lone Star at Oklahoma - 5:30 PM CST