Minot defenseman O'Hanisain makes NCAA DI commitment
February 23, 2023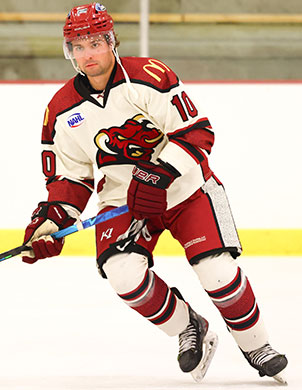 The Minot Minotauros of the North American Hockey League (NAHK) are proud to announce that Top Prospects defenseman Nick O'Hanisain has committed to play NCAA Division I hockey for Bowling Green State University in the CCHA.
He becomes the 96th Minotauro to commit to an NCAA DI program. O'Hanisain will become the second Tauro to play at BGSU (Eric Dop) and the first to commit to BGSU while playing for the Tauros.
O'Hanisain, 21, is currently fifth on the Tauros in scoring so far during the 2022-23 season with 26 points this season on eight goals and 18 assists. He represented the Minotauros at the 2023 NAHL Top Prospects Tournament where he posted two assists in two games.
"I chose Bowling Green because I love the energy and excitement they brought about their program as well as their excitement in me. This program is world class and has been for years. A phenomenal history and such an exciting spot to play in with the building and atmosphere the city brings," said O'Hanisain. "I have a lot of interest in kinesiology. BGSU has a great program for that. BGSU also has a very good broadcasting school and have moved a lot of guys into professional sports for broadcasting and I have a lot of interest in that as well."
O'Hanisain points to his season and a half as a Tauro as being a big part of being able to take the next step in his career.
"The coaches prepared us for the next level with different team building activities, involvement in the community, and the standard they hold us to as a player and individual. The support we get from the organization, town, and fans also has had a huge impact," said O'Hanisain. "Cody Campbell was working day in and day out on the phone and reaching out to schools for me."
"We couldn't be more excited for Nick and his family. Nick has proven consistently throughout the last season and a half that he is more than deserving of this opportunity. Bowling Green is getting a well-rounded defensemen, a leader, and a person that is going to make a positive impact throughout the Bowling Green campus. We couldn't be any prouder of Nick and what he has done to earn this opportunity," said Minotauros head coach Cody Campbell.
"There is a long list of people I would love to thank. First and most important, my mom. The time effort and money put into me and making this happen. I wouldn't be here without her. My dad and brother and the late-night phone calls, for the support along with the rest of the family in believing in me and picking me up when I was down. Every single one of my coach's has played a major roll in this and I can't thank them enough down to my first coach in Matt Gumble who always saw something special in me. My friends and teammates for always believing in me and helping me through the tough times when I needed them most. And of course my papa. Without him most of this wouldn't be happening and I can't think him enough for everything he has done. And everyone else that has had an impact on my life. Can't thank everyone enough and am extremely grateful for everyone in my life," said O'Hanisain.
Click here for an updated NAHL to NCAA commitment list