February 15, 2023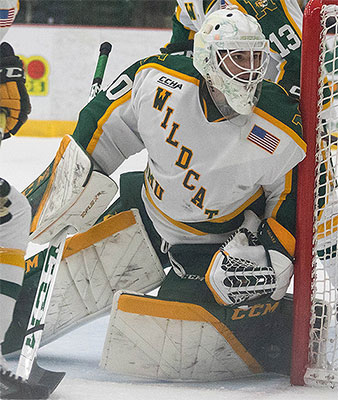 Atlantic Hockey Player of the Week: John Keranen, F, Army West Point (Minnesota Magicians) - Army West Point's John Keranen dominated play this past week, scoring two game-winning goals for the Black Knights. The Delano, Minn., native scored twice in the win against Sacred Heart on Feb. 7, including a power-play score in the first period that was the eventual game-winner. He also netted the game-winning goal and assisted on second tally in the series opener against Holy Cross on Friday. Keranen was strong in the faceoff circle, winning 34 draws, and also blocked six shots this week. This is his second career Atlantic Hockey weekly honor, both of which have come this season.
Atlantic Hockey Defensive Player of the Week: Sam Brennan, D, Air Force (Lone Star Brahmas) - Air Force's Sam Brennan registered a career-high two goals in the Falcons' 5-4 win at Sacred Heart on Friday. The Brighton, Mich., native scored a second-period power-play goal and a potted the game-winning goal with a third-period tally on the man-advantage. Brennan also assisted on the game's first goal. He finished the weekend with seven shots on goal and five blocks. This is his second career Atlantic Hockey weekly honor and first this season. This is the fifth DPOTY honor won by three Falon defenders, the most in both categories by an AHA squad.
Atlantic Hockey Goalie of the Week: Justin Evenson, Army West Point (Amarillo Bulls) - Army West Point's Justin Evenson logged a pair of victories in two starts against Sacred Heart and Holy Cross. The Minnetonka, Minn., native shut down SHU for more than 55 minutes on Feb. 7 before allowing a late goal in the 4-1 win. He then turned in a 34-save victory over the Crusaders in their series opener on Friday. This is Evenson's first career Atlantic Hockey weekly honor.
Atlantic Hockey Rookie of the Week: Glebs Prohorenkovs, F, Niagara (Amarillo Wranglers) - Niagara's Glebs Prohorenkovs scored three times as the Purple Eagles swept No. 18/18 RIT. The Riga, Latvia, native assisted on the opening goal and scored twice in the third period, including the game winning goal with 29 seconds left in regulation in Thursday's series opener. He lit the lamp for the third time on the weekend when he netted NU's final goal in Saturday's win. Prohorenkovs led the Purple Eagles in the faceoff circle as he won 62.5 percent of draws. He has nine points in his last five games including points in NU's last three outings. This is his second career Atlantic Hockey weekly honor.
B1G #3 Star: Kyle McClellan, G, Wisconsin (Austin Bruins) – McClellan was named the game's No. 1 Star after making 32 saves in Wisconsin's 3-1 win over No. 1/1 Minnesota on Feb. 11. He compiled a .963 save percentage and 1.32 goals-against average against the highest scoring team in conference play.He earns Big Ten weekly honor for the first time and becomes second Badger goaltender to earn a weekly award this season.
CCHA Forward of the Week: Kyle Kukkonen, Michigan Tech (Minot Minotauros) - Kukkonen led all CCHA skaters with four goals for four points last week, helping then-No. 12 Michigan Tech lock up home ice through the semifinals of the Mason Cup Playoffs with a split against Bowling Green. Scoring twice in each game, his eight shots on goal were second-most in the league and his +2 was good for third. On Friday, he netted both Huskies' goals in a 5-2 loss, before scoring Tech's first and last goals in a 4-2 win on Saturday.
CCHA Goaltender of the Week: Beni Halasz, Northern Michigan (New Mexico Ice Wolves) - Halasz helped Northern Michigan to a road split at St. Thomas, going 1-1-0 with a 1.51 goals-against average and a .952 save percentage, which were both tops among CCHA netminders. On Friday, he made 29 saves to earn his second collegiate shutout in a 3-0 victory. He then turned away 30-of-33 shots in a 4-2 defeat on Saturday. He was a perfect 13-of-13 while the Wildcats were shorthanded, leading the penalty kill to a 10-for-10 weekend.
CCHA Rookie of the Week: Lleyton Roed, F, Bemidji State (Minnesota Magicians) - Roed recorded a goal and an assist for two points last week, helping Bemidji State to a road split at Ferris State. His eight shots were good for eighth on the team and second among all CCHA skaters. He had three shots in a 3-2 loss on Friday, before notching a goal and an assist with a game-high five shots in a 6-2 victory on Saturday. Finishing even for the weekend, he has now collected five Rookie of the Week awards this season.
ECAC Defender of the Week: Lauri Sertti, RPI (Amarillo Bulls) - Lauri Sertti (Jr., Rensselaer) had four points in Rensselaer's 4-2 defeat of Yale this week, contributing to each of the Engineers' goals and finishing the weekend with a +3 rating. Kept off the board on Friday, Sertti had assists on the power play, at even strength, and shorthanded, proving his mettle on special teams, and scored a power play tally of his own in the first period that stood as the game-winner against the Bulldogs.
ECAC Rookie of the Week: Nick DeSantis, F, Cornell (New Jersey Titans) - DeSantis put up two points in the Big Red's tie in the second half of their home-and-home against Colgate. On Saturday, he assisted on the game's opening goal, then scored one of his own at the midway point of the first period to help the Big Red go up 2-0 over the Raiders. In two games played, DeSantis registered four shots on goal, matching his single-game season high.
Hockey East Rookie of the Week: Jake Dunlap, F, New Hampshire (Northeast/Janesville) - Jake Dunlap (Fr., F; Windham, N.H.) posted the first multi-point game of his career in a 3-2 overtime win over No. 13 UConn on Saturday. He gave UNH a 2-1 lead in the third period and then tallied an assist on the game-winning goal in overtime.
Hockey East Defender of the Week: Hunter McDonald, D, Northeastern (Corpus Christi IceRays) - Hunter McDonald (Fr., D; Fairport, N.Y.) netted his first collegiate goal in a 3-1 win over No. 3 Boston University on Monday to secure a win in the Beanpot semifinals. He blocked nine shots over the Huskies' two games last week and currently leads the league with 48 blocks.
SPHL Player of the Week: Trevor Gorsuch, G, Evansville (Michigan Warriors) - During Evansville's game on Friday night, Gorsuch fended off 29 shots on 30 attempts as the Thunderbolts defeated the Storm 4-1. On Saturday, Gorsuch was lights out, stopping 46 of the 47 shots he faced, including a perfect 16/16 in the final period. The wins were Gorsuch's seventh and eighth wins of the season. Gorsuch leads the Thunderbolts in shutouts (1), goals against average (2.29), and save percentage (0.938%), while his eight wins are second to his teammate Zane Steeves (11).