Tomahawks win 8th straight with sweep of Danbury on Sunday
February 12, 2023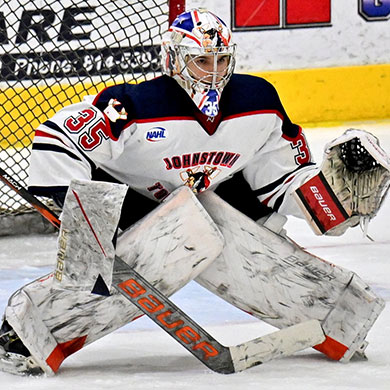 Danbury 1 @ Johnstown 3 - The Johnstown Tomahawks defeated the Danbury Jr. Hat Tricks 3-1 Sunday afternoon for their eighth straight win.
After the Tomahawks scored three goals in the opening period of Saturday night's contest, Sunday afternoon opened with a scoreless first period. The game showed a bit more physicality than Saturday's right from the start, setting the pace for the remainder of the game.
Wyatt Stefan opened the scoring for Danbury 2:35 into the second period, getting his team on the board for the first time in the weekend series. Three minutes later, Will Moore scored his seventh of the season to tie the game at one just eight seconds into a Tomahawks power play. James Barbour's tenth goal of the season, coming at the 13:39 mark of the second period, gave the Tomahawks a 2-1 lead going into the third period.
Will Lawrence secured the 3-1 win for the Tomahawks on Sunday with an empty net goal coming with 48 seconds remaining in the third period.
Adam Johnson made 23 saves in the win, while Thomas Kiesewetter, who was making his debut in a Danbury uniform stopped 36 of 38 shots in the loss.