Top Prospects jersey auction ends Sunday at 5pm
February 12, 2023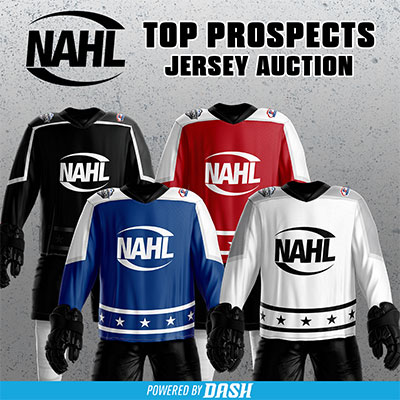 Sunday is the final day to bid on the game-worn and autographed jerseys from the 88 players that played in the 2023 NAHL Top Prospects Tournament, which was held from February 6-7 at the UPMC Lemieux Sports Complex in suburban Pittsburgh, PA.
While the players got to keep a set their game-worn jerseys from the event, a duplicate set of commemorative game jerseys was created by the NAHL's official jersey supplier, K1 Sportswear, and those jerseys were worn, washed, and then individually signed by each player at the event and now being auctioned off on the DASH App.
Auction Details: The auction is currently open and will run until Sunday, February 12th at 5:00pm (central). The opening bid for each commemorative game jersey will be $175 and will be done in bid increments of $25.
Fans can take part in the auction by doing the following:
• Download the DASH app by texting the word 'DASH' to phone number: 66866
• Or, visit: https://web.dashapp.io/team/nahl