February 10, 2023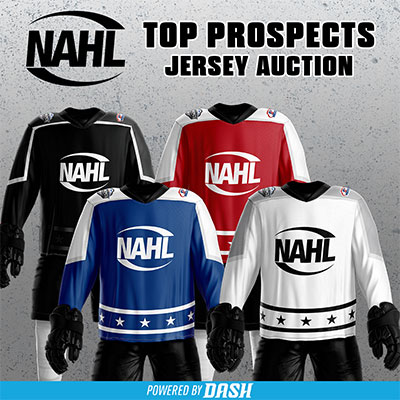 After another successful Top Prospects Tournament, the NAHL gets back into action this weekend with 22 games on the schedule from Friday-Sunday.
With the USA Hockey trade deadline also past, there are just two months remaining in the 2022-23 regular season as it is now a full sprint to the Robertson Cup Playoffs.
It was another good week for NCAA commitments as several more players made NCAA Division I commitments as the current season total is now up to 187 committed players. That includes the first player who played in the 2023 NAHL Top Prospects Tournament this past week and then made a commitment.
In the Central Division, the hottest team is the St. Cloud Norsemen, who are 6-0-1 in their last seven games and who will be in Bismarck to take on the Bobcats, who are just two points behind the Norsemen for the final playoff spot. One point ahead of St. Cloud in the stands are both the Aberdeen Wings and Minot Minotauros, who are deadlocked in a tie for 2nd place in the division with 44 points. The two clubs will battle for the second straight weekend, this time in Minot. The final series has the 1st place Austin Bruins and last place North Iowa Bulls tangling in a home-and-home series.
In the East, the 5th place Johnstown Tomahawks put their six-game winning streak on the line as they host Danbury on Saturday and Sunday. Meanwhile in Maryland, it's a potential first round playoff preview as the 1st place Black Bears host the 4th place Maine Nordiques. The final series has the Northeast Generals hosting the Philadelphia Rebels for one more game on Friday after the Rebels took Game 1 of the series on Thursday, 4-2.
In the Midwest Division, it's a light schedule with just four of the eight teams in action. The Wisconsin Windigo look for a series sweep of the Anchorage Wolverines on Friday after exploding for nine goals on Thursday in a 9-3 win. The other series features the Springfield Jr. Blues in Chippewa to take on the Steel with both teams needing wins to get back into the playoff picture.
In the South, it's a full slate of four games each night. The Odessa Jackalopes face the tall task of facing traveling to Oklahoma to take on the Warriors, who have won 11 straight games and who have not lost at home yet this season. Two potential playoff teams lock horns in New Mexico as the 3rd place Ice Wolves host the 4th place Shreveport Mudbugs. The Amarillo Wranglers are in 5th place and five points out of a playoff spot as they play host to the 2nd place Long Star Brahmas. The final series features Corpus Christi in El Paso with both clubs looking to snap extended losing streaks.
Watch all the action on HockeyTV
Download the all new NAHL App today! (iOS - Google Play)
Friday, February 10
Philadelphia at Northeast - 7:00 PM EST
Anchorage at Wisconsin - 6:00 PM CST
Maine at Maryland - 7:30 PM EST
Springfield at Chippewa - 7:00 PM CST
North Iowa at Austin - 7:05 PM CST
Lone Star at Amarillo - 7:15 PM CST
St. Cloud at Bismarck - 7:15 PM CST
Odessa at Oklahoma - 7:15 PM CST
Shreveport at New Mexico - 6:30 PM MST
Aberdeen at Minot - 7:35 PM CST
Corpus Christi at El Paso - 7:00 PM MST
Saturday, February 11
Danbury at Johnstown - 7:00 PM EST
Maine at Maryland - 7:30 PM EST
Springfield at Chippewa - 7:00 PM CST
Austin at North Iowa - 7:10 PM CST
Lone Star at Amarillo - 7:15 PM CST
St. Cloud at Bismarck - 7:15 PM CST
Odessa at Oklahoma - 7:15 PM CST
Shreveport at New Mexico - 6:30 PM MST
Aberdeen at Minot - 7:35 PM CST
Corpus Christi at El Paso - 7:00 PM MST
Sunday, February 12
Danbury at Johnstown - 2:00 PM EST