Northeast forward Andreychuk makes NCAA DI commitment
February 9, 2023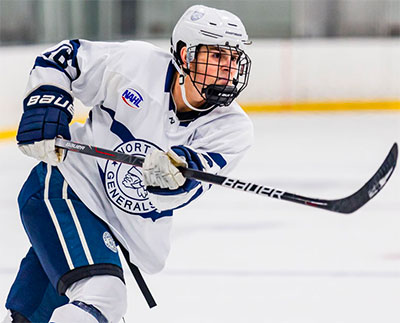 The Northeast Generals of the North American Hockey League (NAHL) are proud to announce that Top Prospects forward Dave Andreychuk has committed to play NCAA Division I hockey at Yale University. The Bulldogs compete in the Eastern College Athletic Conference and the IVY League.
Through three seasons in the North American Hockey League (NAHL) the 20-year-old out of Chatham, NJ has amassed 43 goals and 95 points for 138 points in 131 games played. All but one of his points came as a General for the organizations all-time record of 137.
"Proud doesn't begin to describe the emotions I feel today. Dave has been an amazing person with us for three years. He has worked his butt off every day to get better on the ice, off the ice and in the locker room. His commitment to the process that Matt Dibble, Eric Progen, and I laid out for him is amazing. He trusted us and for that we are so grateful," said Generals Head Coach and President of Hockey operations Bryan Erikson. Matt Dibble, once hired, told me on day 1 we needed to go get Dave. He did that as one of his first moves as the GM. He was right (again). Matt understands the type of person and player we want in our program and Dave was that from Day 1."
"His statistics are of course amazing, but they tell only part of the story. They don't show his work off the ice, the sacrifices he has made, the captain he has been. Yale is getting an impact player but more importantly an impact person. Dave is one of the greats to wear a Generals uniform and we can't wait to make a long run this year and then watch Dave excel at the College level next year," continued Erikson.
Andreychuk is currently the top scorer in the NAHL with 59 points (14 goals, 45 assists) in 42 games played. This past week, he played on the East Division Team at the 2023 NAHL Top Prospects Tournament, where he netted an assist in two games.
"When Bryan and I decided to work together a little over 2 years ago, from day 1 we knew we wanted Dave on our hockey team. We were able to pull off a trade to bring him here. From that day to now, Dave has been a leader of our team on and off the ice. Dave is a kid who I have personally known for a while as he has both played and coached with Roc City in the summer. I couldn't be happier to see him commit to such a prestigious school," said General Manager Matt Dibble. "Yale is a perfect fit I feel for both Dave and their program. Dave will work every day to make them right about their decision to bring him in, just like he has with us. Bryan and Eric have done an awesome job developing Dave into the player he always wanted to be. They have allowed his creativity and motivation to get better to thrive in the Generals culture. Shoutout to Dan Marshall and Dave's parents who have helped throughout this entire process as well."
Click here for an updated NAHL to NCAA commitment list