February 9, 2023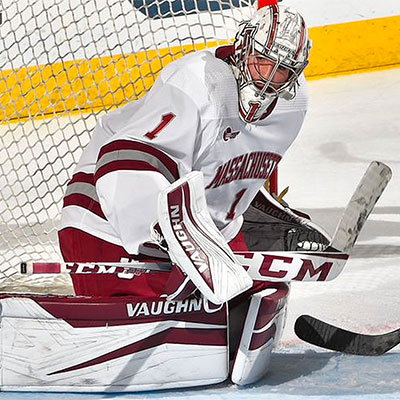 ECAC Defender of the Month: Sam Malinski, Cornell (Bismarck Bobcats) - Sam Malinski (Sr., Cornell) continues to be a force from the blue line for the Big Red, registering fourteen points and finishing the month with a +5 rating. Through just seven games played, Malinski helped the Big Red to a 5-2 record, scoring four goals, including two on the power play, and adding ten helpers. Malinski got on the scoresheet in every game this month, riding an eight-game point streak into February, and recorded five multi-point games. Arguably his best performance came in Cornell's 3-2 defeat of Princeton (January 21), when Malinski assisted on all three of the Big Red's power play goals to help the team earn back-to-back wins.
Atlantic Hockey Defensive Player of the Week: Brandon Koch, D, Air Force (Coulee Region Chill) - Air Force's Brandon Koch posted three points on a goal and two assists against Mercyhurst played a key role in a defense that held the Lakers to five goals and 53 shots in the series. Both of the Hastings, Minn., native's assists in the series were primary helpers on the game-winning goals, one in overtime and one late in the third period. In game one, the senior scored the first goal of the game, marking just the ninth time all season the Falcons scored first. He ended game with the primary assist on Parker Brown's game-winner in overtime. In the series finale, Koch had the primary assist on the power-play game-winner with five minutes left in the game. Koch has a point in three straight contests and seven points in his last six games. This is his fourth career Atlantic Hockey weekly honor and third this season.
Atlantic Hockey Goalie of the Week: Jacob Barczewski, G, Canisius (Janesville Jets) - Canisius senior Jacob Barczewski posted a 2.43 goals-against average and a .914 save percentage to backstop Canisius to a split of its home-and-home series against No. 18/RV RIT last weekend. The O'Fallon, Mo., native began the weekend with a 26-save performance in the series opener at home. Barczewski finished the weekend by stopping 27-of-29 shots faced in a 3-2 overtime victory over the Tigers. The weekend performance moved his career save total to 2,349, which ranks No. 25 in Atlantic Hockey history and No. 5 on Canisius' career list. This is his ninth career Atlantic Hockey weekly honor and his second this season.
Atlantic Hockey Rookie of the Week: Mason McCormick, F, Air Force (Shreveport/Springfield/Austin) - Air Force's Mason McCormick scored a goal in each game against Mercyhurst to help lead Air Force to its first regular-season conference sweep since January of last season. In game one, his goal in the third period tied the game at 3-3 and he won 10 faceoffs as Air Force went on to win in overtime. McCormick won three faceoffs in the final three minutes to help force the extra period. In the series finale, he sealed the win on an empty-netter with a shot from the hash marks in his own end. He blocked two shots and was a +1 in the series. This is his first career Atlantic Hockey weekly honor.
CCHA Forward of the Week: Luc Laylin, St. Thomas (Minnesota Magicians) - Laylin led all CCHA skaters with three goals last week, helping the Tommies to a split with then-No. 13 Minnesota State, including the program's first ever victory over the Mavericks. Scoring the opening goal in both contests, he had two tallies on four shots in St. Thomas' 3-2 overtime win in Mankato in Friday night. He then had one goal on three shots in a 5-2 defeat on Saturday at home. For the weekend he blocked two shots on the defensive end of the ice.
CCHA Defenseman of the Week: Andy Carroll, Minnesota State (Aberdeen Wings) - Carroll paced all conference blueliners in goals (2) and points (2) last week, helping then-No. 13 Minnesota State to a split with St. Thomas. Scoring a goal in each contest, he was even for the weekend, with one power play tally and five shots on goal. Earning his second Defenseman of the Week honor this year, he netted Minnesota State's first goal on Friday night, before adding an insurance tally late in the second period on Saturday in an eventual 5-2 triumph.
CCHA Rookie of the Week: Joey Larson, Northern Michigan (New Mexico Ice Wolves) - Larson helped Northern Michigan to a home split with Lake Superior State, scoring two goals with one assist for three points. He was even for the weekend with a team-high eight shots on goal. On Friday, he had a goal and an assist in a 4-2 defeat, before scoring the eventual game-winner in a 3-1 victory over the Lakers on Saturday.
Hockey East Goalie of the Week: Luke Pavicich, UMass (Kenai River Brown Bears) - Luke Pavicich (So., G; Clarence Center, N.Y.) made 43 saves on Friday in a 3-2 road in at Providence, including 19 in the third period alone. He made double digit stops in each of the three periods to help UMass snap a six-game skid.
NCHC Defenseman of the Week: Zak Galambos, Western Michigan (Johnstown/Janesville) - Galambos led all NCHC defensemen with three points on the weekend, while anchoring a blue line that allowed only three goals in a pair of wins at Minnesota Duluth. On Friday, Galambos handed out a pair of assists in a 3-2 overtime victory, while firing five shots on goal and blocking a shot. His first helper came on a power play goal that broke a 1-1 tie in the second period. He then dished out the primary assist on the overtime game-winner to complete the victory. A night later, Galambos scored a short-handed goal to double WMU's lead in the second period in an eventual 4-1 victory. His goal served as the game-winner, while he was +2 on Saturday with two more blocked shots. Galambos ended the weekend with a game-winning, short-handed goal, two assists, eight shots on goal and a +3 plus/minus to lead all NCHC players last weekend. He also blocked three shots in the series and helped Western Michigan go a perfect 3-for-3 on the penalty kill against UMD.