Central and South win on Day 1 of NAHL Top Prospects
February 7, 2023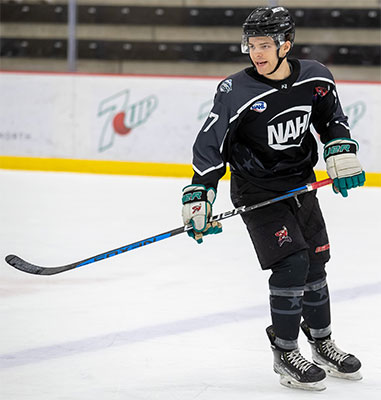 The 2023 North American Hockey League (NAHL) Top Prospects Tournament got underway on Monday, February 6th. The event is taking place from February 6-7, 2023, at the UPMC Lemieux Sports Complex in Cranberry Township, Pennsylvania.
Day 1 saw a great scout and fan turnout with the South and Central Divisions coming away with wins. Day 2 will see both those teams facing one another in the early game at 11am, while Midwest and East will play at 2pm.
For more information on the 2023 NAHL Top Prospects Tournament, please visit: http://nahl.com/tpt/
Only those NAHL players without an NCAA commitment are eligible to participate in the 2023 NAHL Top Prospects Tournament, except for those who have been identified by NHL Central Scouting as prospects for the 2023 NHL Draft. Each team is comprised of 22 players (13 forwards, 7 defensemen, 2 goalies) for a total of 88 players.
2023 NAHL Top Prospects Tournament Schedule (all times eastern)
Monday, February 6th
South 7 vs. Midwest 3
Central 3 vs. East 1
Tuesday, February 7th
11:00am: Central vs. South
2:00pm: Midwest vs. East
Day 1 recaps
South 7 vs. Midwest 3 – In the opening game of the 2023 Top Prospects Tournament, the South Division got two goals from Drake Morse (Shreveport Mudbugs) and a three-point night from Mason Mara (Lone Star Brahmas) as they defeated the Midwest, 7-3. Midwest was on the board first as J.J. Grainda (Chippewa Steel) converted on a 2 on 1. The South then turned the tables with four straight goals to take a 4-1 lead. Morse scored his first later in the 1st period to make it 1-1. Ryan Prewitt (Lone Star Brahmas) then scored to make it 2-1. In the 2nd period, the South continued to pressure with another goal from Morse and one from Tanyon Bajzer (Odessa Jackalopes). The Midwest kept their hopes alive later in the 2nd period with a shorthanded goal from Cole Gordon (Minnesota Wilderness) and a goal from Hunter Newhouse (Kenai River Brown Bears, but the South would pull away later in the 2nd and 3rd periods with goals from Brendan Williams (Oklahoma Warriors), Kolby Amici (El Paso Rhinos) and Mara. Arthur Smith (Lone Star Brahmas) picked up the win for Team South, making 20 saves. Carter Wishart (Chippewa Steel) took the loss with 33 saves.
Central 3 vs. East 1 – Team Central got 26 saves from goalie Mitch Day (North Iowa Bulls) as they beat Team East on Day 1, 3-1. After a scoreless 1st period, it was the East who got on the board first as defenseman Gunnar VanDamme (Maryland Black Bears) poked home a rebound to give the East a 1-0 lead. Three minutes later, the Central answer back with a goal from Patrick Johnson (Bismarck Bobcats) who was left alone at the side of the net. The Central took their first lead late in the 2nd period as Justin Dauphinais (Minot Minotauros) potted home a rebound for a 2-1 lead. In the 3rd period, the Central put the game on ice as a blast from the point by defenseman Parker Anderson (Austin Bruins) found the back of the net for an insurance goal. In goal for the East, Gavin Moffatt (Wisconsin Windigo) made 22 saves on 23 shots in the loss and Aksel Reid (Springfield Jr. Blues) also made 22 saves in the loss on 24 shots.