February 3, 2023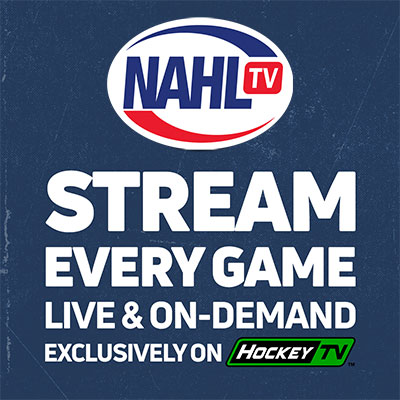 The NAHL is back in action this weekend with a jam-packed schedule of 28 games on Friday and Saturday in the first weekend in February.
There are many key dates coming up including the 2023 NAHL Top Prospects Tournament and the USA Hockey Trading deadline.
The 2023 NAHL Top Prospects Tournament is just a few days away and will be held on February 6-7, 2023 at the UPMC Lemieux Center in suburban Pittsburgh, PA. The NAHL will field four teams for the event, one for each division.
It was another good week for NCAA commitments as several more players made NCAA Division I commitments as the current season total is now up to 183 committed players.
In the Central Division, the two hottest teams in the division clash as playoff position is on the line as Bismarck is in St. Cloud. More playoff positioning is on the line in Aberdeen as Minot pays a visit with the two teams tied in the standings for 2nd place with 42 points apiece. The final series has 1st place Austin in a home-and-home series against North Iowa.
In the East, the Johnstown Tomahawks are making a playoff push and enter the weekend on a four-game winning streak as they host the Northeast Generals. Also on a hot streak are the Philadelphia Rebels, who take their winning streak on the road to face the Maine Nordiques. The final series has Danbury looking to snap their 26-game losing streak with a series in New Jersey against the Titans.
Thanks to a 5-4 overtime win over the Fairbanks Ice Dogs on Thursday, the Minnesota Wilderness are back in 1st place and will host the Wisconsin Windigo for two games this weekend. The Fairbanks Ice Dogs will head South to take on the Janesville Jets for a pair of games. The Chippewa Steel look to snap a five-game skid as they host the Kenai River Brown Bears. Fresh off a 4-3 overtime win on Thursday, the Anchorage Wolverines continue their three-game series in Springfield.
In the South, the Corpus Christi IceRays host the Oklahoma Warriors and try to slow down the NAHL's hottest team as the Warriors have won nine straight games. The 2nd place Lone Star Brahmas look to snap their four-game slide as they host the Amarillo Wranglers. New Mexico looks to keep their winning streak going after they El Paso on Thursday, 7-2, with two more games in the series to come this weekend. The final series has Shreveport in Odessa.
Watch all the action on HockeyTV
Download the all new NAHL App today! (iOS - Google Play)
Friday, February 3
Philadelphia at Maine - 7:05 PM EST
Northeast at Johnstown - 7:30 PM EST
Danbury at New Jersey - 7:30 PM EST
Kenai River at Chippewa - 7:00 PM CST
Fairbanks at Janesville - 7:00 PM CST
Bismarck at St. Cloud - 7:00 PM CST
Oklahoma at Corpus Christi - 7:05 PM CST
Anchorage at Springfield - 7:05 PM CST
Austin at North Iowa - 7:10 PM CST
Minot at Aberdeen - 7:15 PM CST
Wisconsin at MN Wilderness - 7:15 PM CST
Shreveport at Odessa - 7:15 PM CST
Amarillo at Lone Star - 7:30 PM CST
El Paso at New Mexico - 6:30 PM MST
Saturday, February 4
Northeast at Johnstown - 7:00 PM EST
Philadelphia at Maine - 7:00 PM EST
Danbury at New Jersey - 7:00 PM EST
Anchorage at Springfield - 6:05 PM CST
Kenai River at Chippewa - 7:00 PM CST
Fairbanks at Janesville - 7:00 PM CST
Bismarck at St. Cloud - 7:00 PM CST
North Iowa at Austin - 7:05 PM CST
Oklahoma at Corpus Christi - 7:05 PM CST
Minot at Aberdeen - 7:15 PM CST
Wisconsin at MN Wilderness - 7:15 PM CST
Shreveport at Odessa - 7:15 PM CST
Amarillo at Lone Star - 7:30 PM CST
El Paso at New Mexico - 6:30 PM MST