LaRusso's four goals leads Generals to win on Monday
January 31, 2023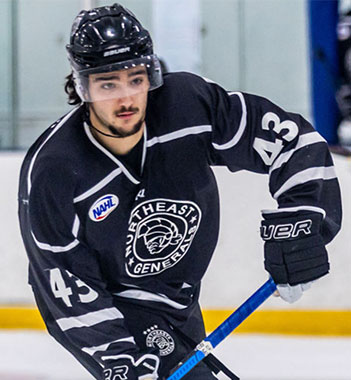 Maine 1 @ Northeast 4 – Generals forward Jake LaRusso had a career game as he scored all four Generals goals in a 4-1 win on Monday.
All four of LaRusso's goals came in the 1st period as he scored four times on the power play in a 12-minute span. His first came 1:27 into the game with assists to Ryan Schelling and Paul Minnehan.
His second goal came less than two minutes later with assists to David Andreychuk and Minnehan.
His third goal was three minutes after that as again he found the back of the net on the power play with assists to Matthew DeSpirt and Sixten Jennersjo.
His fourth and final goal came at the 13:16 mark with the third assist of the game to Minnehan and also an assist to Bryceon Lago.
Maine would net their lone goal late in the 1st period off the stick of Oliver Genest.
Generals goalie Cullen DeYoung made 32 saves in the win, while Thomas Heaney was saddled with the loss with 11 saves on 15 shots. Kael DePape made 21 saves in a relief appearance.