January 13, 2023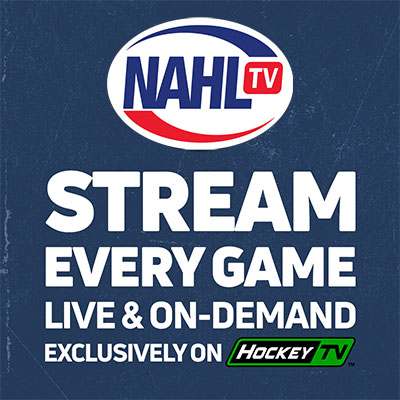 The North American Hockey League (NAHL) gets back in action this weekend with a full schedule of 26 games on Friday and Saturday.
As January rolls on, there are many key dates coming up including the 2023 NAHL Top Prospects Tournament and the USA Hockey Trading deadline.
The 2023 NAHL Top Prospects Tournament, which will be held on February 6-7, 2023 at the UPMC Lemieux Center in suburban Pittsburgh, PA. The NAHL will field four teams for the event, one for each division.
The 2023 Top Prospects rosters are being finalized and will be announced on Thursday, January 19th.
It was another good week for NCAA commitments as six more players made NCAA Division I commitments as the current season total is now up to 170 committed players.
In the Central Division this weekend, the red-hot Austin Bruins hold an 11-point lead atop the division and they take on the St. Cloud Norsemen in a home-and-home series. 2nd and 3rd place tangle this weekend in Minot as the Minotauros host the Aberdeen Wings. The final series has the North Iowa Bulls in Bismarck to take on the Bobcats.
In the East, the New Jersey Titans haven't lost a game in regulation in 15 straight outings as they have a home-and-home series with the Philadelphia Rebels this weekend. The 1st place Maryland Black Bears, who enjoy a nine-point lead atop the division are in Danbury as the Jr. Hat Tricks are looking to snap a 20-game losing streak. The final series feature the Maine Nordiques in Johnstown to take on the Tomahawks.
In the Midwest Division, the 1st place Fairbanks Ice Dogs return to Alaska to take on Kenai River. The 2nd place Minnesota Wilderness take to the road to face the Wisconsin Windigo. The final series has the Springfield Jr. Blues in Janesville to take on the Jets.
In the South, it's a full slate of games as the red-hot Shreveport Mudbugs put their six-game winning streak on the line as the host the 2nd place Oklahoma Warriors in a potential playoff preview. Corpus Christi will try and snap a nine-game losing streak as they are in New Mexico for a pair of games. The 1st place Lone Star Brahmas host El Paso as the Rhinos are looking to snap a five-game slide. The final series has Odessa in Amarillo with both teams needing valuable points to get back in the playoff mix.
Watch all the action on HockeyTV
Download the all new NAHL App today! (iOS - Google Play)
Friday, January 13
Maryland at Danbury - 7:00 PM EST
Maine at Johnstown - 7:30 PM EST
Philadelphia at New Jersey - 7:30 PM EST
Springfield at Janesville - 7:00 PM CST
MN Wilderness at Wisconsin - 7:00 PM CST
St. Cloud at Austin - 7:05 PM CST
Oklahoma at Shreveport - 7:11 PM CST
Odessa at Amarillo - 7:15 PM CST
North Iowa at Bismarck - 7:15 PM CST
El Paso at Lone Star - 7:30 PM CST
Corpus Christi at New Mexico - 6:30 PM MST
Aberdeen at Minot - 7:35 PM CST
Kenai River at Fairbanks - 7:30 PM AKST
Saturday, January 14
Maryland at Danbury - 7:00 PM EST
Maine at Johnstown - 7:00 PM EST
New Jersey at Philadelphia - 7:30 PM EST
Springfield at Janesville - 7:00 PM CST
Austin at St. Cloud - 7:00 PM CST
MN Wilderness at Wisconsin - 7:00 PM CST
Oklahoma at Shreveport - 7:11 PM CST
Odessa at Amarillo - 7:15 PM CST
North Iowa at Bismarck - 7:15 PM CST
El Paso at Lone Star - 7:30 PM CST
Corpus Christi at New Mexico - 6:30 PM MST
Aberdeen at Minot - 7:35 PM CST
Kenai River at Fairbanks - 7:30 PM AKST