January 12, 2023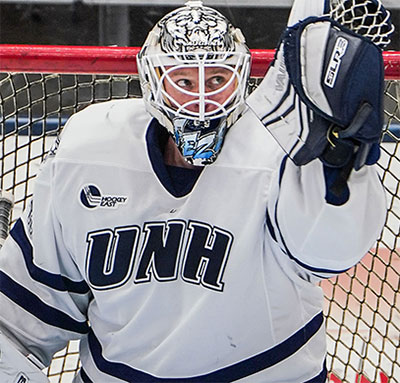 Atlantic Hockey Defensive Player of the Week: Anthony Firriolo, Army West Point (Corpus Christi/Amarillo/WBS Knights) - Army West Point defenseman Anthony Firriolo collected assists on all three goals in Army's 3-3 draw with No. 11/11 Providence on Sunday. The Montville, N.J., native dished out two on the power-play to Joey Baez along with an even-strength helper on a goal by Ricky Lyle. Firriolo finished the week with four shots on goal and four blocked shots in two games against the Friars and Sacred Heart. This is his eighth career Atlantic Hockey weekly honor and his first this season.
B!G 1st Star: Jakub Dobeš, Ohio State (Topeka Pilots) - Posted a 0.50 goals-against average and a .983 save percentage in backstopping No. 12/12 Ohio State to a sweep of No. 14/13 Michigan State, Jan. 6-7, in Columbus, Ohio. He made 32 saves in a 6-0 win Jan. 7 to record his second shutout of the season and the fifth of his career. He then helped extend Ohio State's win streak to five games as the Buckeyes took over third place in the Big Ten standings. Receives his second weekly award of the season and the sixth of his career.
CCHA Rookie of the Week: Lleyton Roed, Bemidji State (Minnesota Magicians) - Roed led all CCHA freshmen with two points last week, picking up helpers on both of the Beavers' goals at Minnesota Duluth on Saturday. Finishing the week at +1, he registered seven shots in Bemidji State's two-game series with the Bulldogs and won 51.6% of his face-offs. He is the third conference player to earn multiple ROTW honors this season.
ECAC Defender of the Week: Luc Salem, St. Lawrence (Topeka/Maryland) - Salem registered five points in the Saints' weekend split with Niagara. On Friday, Salem assisted on two goals, including the first and second of the game, for his first multi-point contest of the season. Saturday saw Salem repeat the performance, assisting on both St. Lawrence's equalizer and go-ahead power play goal in the third period, then scoring the overtime game-winner in dramatic fashion to knock off the Purple Eagles at Appleton.
ECAC Rookie of the Week: Nick DeSantis, Cornell (New Jersey Titans) – DeSantis earns back-to-back ECAC Hockey Rookie of the Week honors after putting up five assists and finishing the weekend with a +4 rating in two games for the Big Red. On Friday at Union, DeSantis assisted on Ben Berard's first period goal, then combined with Berard again for four more goals on Saturday, including one on the power play and three at even strength.
Hockey East Defender of the Week: Nikolai Jenson, New Hampshire (Shreveport Mudbugs) - Jenson was a member of a defense that only allowed one goal in two games. He posted two assists for two points and led the team with five blocked shots. He also tied for first on the team with a plus-four rating. Jenson totaled three blocks at No. 11 Providence in a 2-0 win, while he had two assists and two blocks against Sacred Heart in the 4-1 win.
Hockey East Goalie of the Week: David Fessenden, New Hampshire (Northeast, Magicians, Bismarck) - Fessenden was outstanding in net with a 2-0-0 record on the week. He made 58 saves and only allowed one goal for a .983 save percentage and a 0.50 goals against average. Fessenden made 35 saves as the Wildcats won at No. 11 Providence, 2-0, on Friday. This was the first shutout for Fessenden as a Wildcat and the second of his collegiate career. His 18 saves during the third period are the most he has posted in a period as a Wildcat. On Sunday he made 23 saves and allowed one goal in the 4-1 win over Sacred Heart at the Whittemore Center.
NCHC Goalie of the Week: Jaxon Castor, St. Cloud State (Shrevport Mudbugs) - Castor was stellar between the pipes for the Huskies, backstopping SCSU to a win and overtime loss against then-No. 3/1 Minnesota. In Saturday's series opener, the senior stopped all 23 shots he faced for his first career shutout in a 3-0 victory at home. It was SCSU's first whitewash of the Golden Gophers since 2001 and marked the first time in 59 games (since March 28, 2021) Minnesota was held scoreless. A day later in Minneapolis, Castor made 28 more saves in a 2-1 overtime loss, with neither goal on Sunday coming 5-on-5 (one power play and one in 3-on-3 overtime). Castor finished the series with a 0.96 goals-against average and a .962 save percentage, both tops in the NCHC on the weekend. He compiled 51 saves on 53 shots faced in the split with Minnesota, while helping SCSU go 5-for-6 on the penalty kill with four short-handed saves. On the season, Castor is now 8-3-0 while lowering his GAA to 1.90 and upping his save percentage to .927. Both Castor's save percentage and GAA rank in the top-10 nationally, with his save percentage fifth and his GAA ranking eighth.
NCHC Rookie of the Week: Ben Strinden, North Dakota (Minot Minotauros) - Strinden doubled his season point total last weekend, picking up three points in a sweep of Lindenwood. In Friday's opener, he dished out the primary assist on the game-tying goal in the third period to complete a two-goal comeback as UND went on to win, 4-3. The next night, he recorded his second career multi-point game, again helping North Dakota rally for a 4-2 win. Trailing 2-0, Strinden scored his second goal of the season early in the second period to get UND on the board, then assisted on the game-tying goal less than five minutes later. Strinden completed the series with a goal and two assists, while firing four shots on goal, including three on Saturday. He also posted a +2 plus/minus. Strinden now has two goals and four assists for six points in 12 games this season.