Grit announce Director of Player Development and Head Coach
January 9, 2023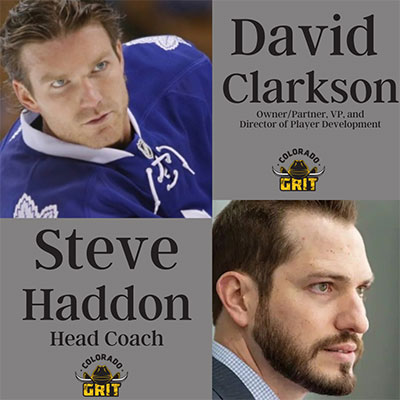 The Colorado Grit, new members of the North American Hockey League (NAHL), are pleased to announce David Clarkson as Owner/Partner, VP, and Director of Player Development, and Steve Haddon as the organization's first Head Coach.
Clarkson is a Native of Toronto, Canada and since playing in the NHL he has spent the past six seasons developing, coaching, and scouting hockey players at the youth, junior, and pro levels.
Throughout his hockey career, David Clarkson developed a reputation for being one of the game's great all-around players. Clarkson's four-year junior career started with Belleville of the Ontario Hockey League and ended with Kitchener, where he won the Memorial Cup in 2003. Clarkson spent 12 years in the NHL, playing 570 games, before making the transition into coaching.
David Clarkson can be contacted via email here.
Haddon is a Native of Sarnia, Canada and has been a Head Coach and GM at the Junior level for the past ten seasons. During his coaching career Haddon has a record of 315-177-78. In his ten seasons he has helped 0ver 100 players move on to the NCAA and professional levels.
Prior to his coaching career, Haddon played 9 years of professional hockey in the Northern Colorado community with the Colorado Eagles of the ECHL. He has been fortunate enough to have won championships at every level: junior, college and professional.
Coach Haddon can be contacted via email here.
"As a program we are excited to have these two phenomenal "hockey guys" who share the vision of establishing a successful NAHL program. They have great coaching and development acumen and are committed to helping players advance their careers and grow as young men. Their combined experience and backgrounds as coaches and former players who competed at the highest levels will truly help guide our players toward successful hockey careers while mentoring them to become successful and productive individuals on and off the ice," said Colorado Grit President and Owner Casey Bradshaw.