January 4, 2023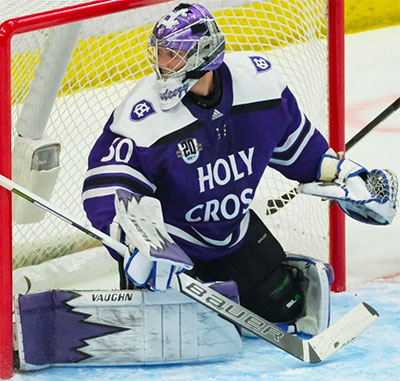 Atlantic Hockey Player of the Month: Nicholas Cardelli, F, AIC (Brookings Blizzard) - AIC's Nicholas Cardelli led Atlantic Hockey in scoring with eight points on six goals and two assists in six games as AIC went 3-1-2. The Oak Brook, Ill., native opened the month with a hat-trick and an assist on the game-winning tally against Bentley on Dec. 1 and then was on ice for the first goal the next night. Against Niagara on Dec. 8-9, Cardelli helped hold the Purple Eagles off the board in the opener, then scored the tying and winning goals in the finale. He closed out the month with a goal and a primary assist in AIC's tie at Cornell on Dec. 30. He contributed to an AIC penalty kill that snuffed out 16-of-19 opponent man-advantages (84.2 percent) and a Yellow Jacket power play that was 6-of-25 (24.0 percent) on the month. This is his first career Atlantic Hockey monthly honor.
Atlantic Hockey Defensive Player of the Month: Brian Kramer, D, AIC (Corpus Christi IceRays) - AIC's Brian Kramer was the Yellow Jackets' top defender in December, helping AIC hold conference foes to just four goals in four games while contributing significantly on offense. The Wexford, Pa., native led all Atlantic Hockey defensemen in scoring with seven points on two goals and an AHA blueliner-best five assists for the month. Kramer notched a goal and three assists and was +4 against Bentley, setting up the winning goal as well as another and then scoring one of his own in the finale. Against Niagara, he helped AIC shutout the Purple Eagles in the series opener before assisting on two goals, including the game-winner, the next day. At Cornell, he opened the scoring in the series finale with a goal that was featured on SportsCenter's Top 10 Plays. This is his first career Atlantic Hockey monthly honor.
Atlantic Hockey Goalie of the Month: Jason Grande, Holy Cross (Amarillo Bulls) - Holy Cross junior Jason Grande backstopped the Crusaders to a 2-1-0 month, which saw them sweep Atlantic Hockey foe Air Force and hold No. 2/3 Quinnipiac to a 4-1 decision. Against Air Force, the West Chester, Pa., native stopped 55-of-57 shots and did not allow an even strength goal in the series. At the end of the month against No. 2/3 Quinnipiac, Grande held the high-scoring Bobcats three goals while he was on the ice to finish the month with an AHA-best 1.69 goals-against average and a .940 save percentage, stopping 79-of-84 shots he faced during December. This is his first career Atlantic Hockey monthly honor.
Atlantic Hockey Rookie of the Month/Week: Timofei Khokhlachev, F, AIC (Shreveport Mudbugs) - AIC forward Timofei Khokhlachev was brilliant in the month of December, registering five points on four goals and an assist while also playing strong defense. The Moscow, Russia, native opened the month scoring the game-winning goal against Bentley on Dec. 1 and the opening tally the following evening. Against Niagara, the freshman helped hold the Purple Eagles to a single goal. Against Cornell, he was at his best, setting up an early goal, scoring late, and blocking a shot in the series opener on Dec. 29, then scored an early third-period goal in the finale while blocking three shots. Despite playing significant minutes, he was on the ice for just one goal against during the month. This is his first career Atlantic Hockey monthly award.
CCHA Defenseman of the Month: Will Zmolek, Bemidji State (Minnesota Wilderness) - Zmolek helped No. 20 Bemidji State to a 4-1-1 month, leading all CCHA defensemen with six points on one goal and five assists. He was +2 in December with one power play goal, ranking fourth among conference skaters with 15 blocked shots. During the month, he had a four-game point streak, which included back-to-back multi-point efforts against Lake Superior State and then-No. 16 Minnesota State – both Beavers victories.
CCHA Goaltender of the Month: Mattias Sholl, Bemidji State (Fairbanks Ice Dogs) - Sholl went 4-1-1 in December with a CCHA-best 2.26 goals-against average and a .915 save percentage. Leading the conference in victories, he made a total of 150 saves across 371:21 of action, with two games of 30 or more stops. Four of the 14 goals he allowed came with the Beavers were shorthanded. His month was highlighted by stopping 65-of-69 shots at then-No. 16 Minnesota State, helping the Beavers to their first sweep of the Mavericks since 2006.
Atlantic Hockey Goalie of the Week: Nicholas Grabko, Bentley (Minot Minotauros) - Bentley junior Nicholas Grabko backstopped Bentley to a 3-1 win over RV/RV Northeastern on Friday night. The Channahon, Ill., native made 34 saves against 35 shots faced and helped the Falcons kill all four Husky power plays. He made 16 saves in the third period to help Bentley close out the victory. This is his third career Atlantic Hockey weekly honor and his first this season.
CCHA Goaltender of the Week: Christian Stoever, So., Bowling Green (New Jersey/WBS Knights) - Stoever helped Bowling Green to a non-conference sweep of RPI last week, going 2-0-0 with a 1.51 goals-against average and a .952 save percentage, turning away 60 of the 63 shots he faced. On Friday, he made 31 saves in a 3-1 victory over the Engineers. He then had 29 stops in a 5-2 win in which he aided the Falcons' comeback effort after falling behind 2-0 early, earning the secondary assist on the tying goal with an outlet pass up the right-wing boards. For the weekend, he was 11-for-11 while the Falcons were shorthanded, helping the team kill off all six chances.
ECAC Rookie of the Week: Nick DeSantis, F, Cornell (New Jersey Titans) - Nick DeSantis (Fr., Cornell) registered his first two multi-point games of the season, scoring three goals and adding an assist for four points during the Big Red's final two games of the first half. On Thursday, DeSantis scored Cornell's opening goal of the game and assisted on Sullivan Mack's go-ahead goal in the Big Red's eventual 8-4 rout of American International. Friday's contest saw DeSantis skate away with two goals of his own, including the Big Red's first and second of the game.