Steel goalie Gajan shines at World Junior Championship
January 3, 2023
by Lucas Aykroyd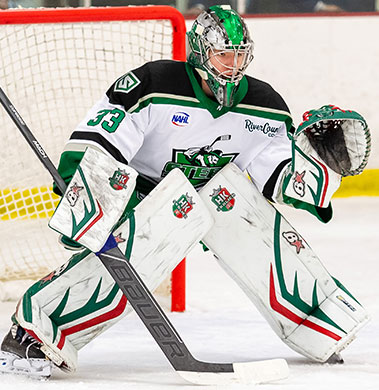 Chippewa Steel and NAHL goalie Adam Gajan has come a long way. At age 10, he watched on TV as Slovak goalie Denis Godla backstopped his nation to the 2015 IIHF World Junior Championship bronze medal in Toronto. This year, the 18-year-old is Slovakia's starter at the World Juniors. And it wasn't expected.

"Even a year ago, I always set my alarm in the night to watch the games," confessed Gajan. "So for me to be here, it's crazy!"
His tournament's over now after losing 4-3 to Canada on Monday in the quarterfinal, but Slovakia wouldn't have even had a shot had it not been for his play. Gajan made 53 saves before ultimately allowing a highlight-reel goal from Connor Bedard, but you can't blame Gajan for it. It was simply a goal to remember.
Gajan entered this tournament as the third-stringer behind Patrik Andrisik and Matej Marinov. The 190-cm, 80-kg goalie started the season with the NAHL's Chippewa Steel, playing 16 games. On December 5th, he committed to play NCAA Division I hockey for the University of Minnesota-Duluth.
"[Slovakia] called me later, so I didn't expect that I will be playing," Gajan said. "I'm happy that they gave me the chance. The goalie coach just texted me and then I flew out the next morning. It all happened in like 24 hours."

He got his first shot in Group B after Slovakia's tough 5-2 opening loss to Finland, for which he did not dress. Gajan stood tall with 33 saves in a 6-3 upset over the United States, which has won three of the last 10 World Junior gold medals. It was the first time he had ever represented Slovakia in IIHF competition.

Asked if that was the biggest win of his career, he responded: "I think of course! We played against big favourites, and we won, so it was my biggest win."

"I knew that he's a really good goaltender, but he didn't make the team when he was like 17, 18," said Slovak assistant captain Filip Mesar after Gajan added a 3-0 shutout with 28 saves against Latvia. "But right now, everything is very good from him. That's how his career can start now."

Even in the 4-3 shootout loss to Switzerland, Gajan impressed with 33 saves and battled throughout the 10-round shootout.

Gajan, who owned a sparkling 2.40 GAA and 93.6 save percentage at this tournament, appreciates Mesar's support. It's fun to succeed alongside your friends, and the young goalie is tight with the nifty forward who was drafted 26th overall in 2022 by the Montreal Canadiens.

"We are from Poprad," Gajan explained. "It's a small town in Slovakia. We've known each other since we were five years old. So we are great friends."

2022 was a banner year for Slovak hockey. From the Olympic bronze medal in Beijing to Montreal's selection of Juraj Slafkovsky as the number one overall pick, highlights abounded. But Gajan was well off the radar for a long time.

"A year ago, nobody believed in me that I can play, even in the NAHL, to be the first goalie there," he admitted.
Click here for the rest of the story