December 30, 2022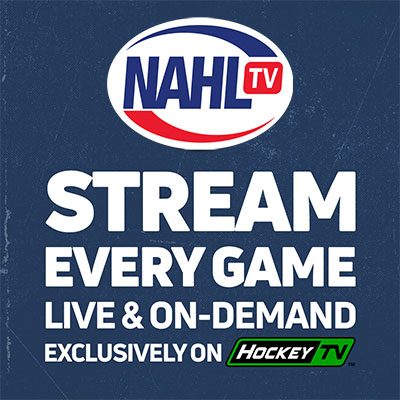 After an extended break of nine days for the holidays, the NAHL gets back into action this weekend with the final games of 2022.
There are 20 games on the schedule from Friday-Sunday.
At the halfway point, the race for the top spot in each division is still tight, as is the race for the top four playoff spots in each division.
It was another good couple of weeks for NCAA commitments as eight more players made NCAA Division I commitments as the current season total is now up to 163 committed players.
In the Central Division, things got started early on Thursday as Minot beat Bismarck, 4-3. The two teams play twice more this weekend. St. Cloud puts their three-game winning streak on the line this weekend as they travel to Aberdeen to face the 2nd place Wings. The 1st place Austin Bruins will make the short trip to Mason City to face the North Iowa Bulls on Saturday and Sunday after playing in Austin on Friday.
In the East, it's a reduced schedule with just four teams in action as the Danbury Jr. Hat Tricks are in Maine looking to snap a 17-game losing streak and will try and do so under new head coach Patrik Stefan. The other series has the 3rd place Northeast Generals on the road to face the Johnstown Tomahawks.
In the Midwest Division, the Kenai River Brown Bears are on the road to face the Wisconsin Windigo. The Anchorage Wolverines are also on the road to face the Janesville Jets. Fairbanks is in Chippewa for one game on New Year's Eve.
In the South, Shreveport looks for a series sweep of Corpus Christi on Friday after beating them on Thursday, 7-3. New Mexico is in Amarillo for a pair of games and Oklahoma is at Lone Star for a lone game on New Year's Eve.
Watch all the action on HockeyTV
Download the all new NAHL App today! (iOS - Google Play)
Friday, December 30
Danbury at Maine - 7:05 PM EST
Northeast at Johnstown - 7:30 PM EST
Kenai River at Wisconsin - 7:00 PM CST
North Iowa at Austin - 7:05 PM CST
Shreveport at Corpus Christi - 7:05 PM CST
Anchorage at Janesville - 7:05 PM CST
St. Cloud at Aberdeen - 7:15 PM CST
New Mexico at Amarillo - 7:15 PM CST
Bismarck at Minot - 7:35 PM CST
Saturday, December 31
Fairbanks at Chippewa - 5:00 PM CST
Northeast at Johnstown - 6:00 PM EST
Danbury at Maine - 7:00 PM EST
Oklahoma at Lone Star - 7:00 PM CST
Kenai River at Wisconsin - 7:00 PM CST
Anchorage at Janesville - 7:05 PM CST
Austin at North Iowa - 7:10 PM CST
St. Cloud at Aberdeen - 7:15 PM CST
New Mexico at Amarillo - 7:15 PM CST
Minot at Bismarck - 7:15 PM CST
Sunday, January 1
Austin @ North Iowa – 5:30 PM CST