NAHL players taking part in 2023 World Junior Championship
December 27, 2022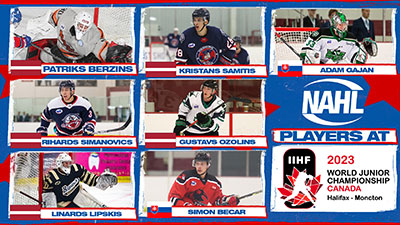 The 2023 IIHF World Junior Hockey Championship got underway on December 26th and the North American Hockey League is pleased to announce that nine NAHL players are taking part in the event.
The event runs December 26-January 5. The United States, Finland, Switzerland, Slovakia and Latvia will form Group B and play at the Avenir Centre in Moncton. Canada, Sweden, Czechia, Germany and Austria will compete in Group A, with preliminary-round games taking place at the Scotiabank Centre in Halifax.
NAHL players in World Juniors
Simon Becar, D, Slovakia (Corpus Christi)
Patriks Berzins, G, Latvia (Danbury)
Adam Gajan, G, Slovakia (Chippewa)
Jack Linton, F, Austria (El Paso)
Linards Lipskis, G, Latvia (Bismarck)
Gustavs Ozolins, D, Latvia (Minnesota)
Peteris Purmalis, F, Latvia (Corpus Christi)
Kristans Samitis, F, Latvia (Philadelphia)
Rihards Simanovics, D, Latvia (Amarillo)
*Former Amarillo Bulls head coach Dennis Williams is the Head Coach for Team Canada and former Shreveport Mudbugs head coach Karlis Zirnis is the Assistant Coach for Team Latvia.
After a single round-robin series in each group, the top four teams from each group advance to the Playoff Round while the fifth-placed team in each group moves to the Relegation Round.
The top four placed teams from the Preliminary will play a cross-over Quarter-final game: 1A vs. 4B, 1B vs. 4A, 2A vs. 3B and 2B vs. 3A. If qualified, Canada will play its Quarter-Final Game in Halifax at 19:30. The winner of each Quarter-final moves onto the Semi-Finals.
Games are broadcasted live on the NHL Network.