Bobcats goalie Lipskis to represent Latvia at IIHF World Juniors
December 22, 2022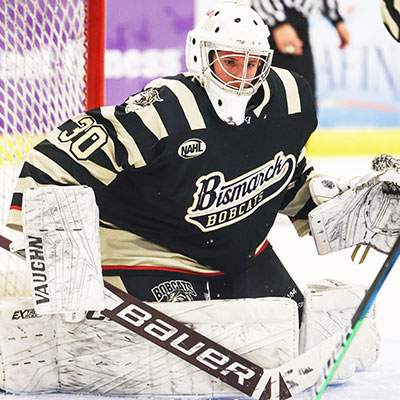 The Bismarck Bobcats of the North American Hockey League (NAHL) are excited to share that Linards Lipskis, current Bobcats goaltender, will represent his home country at the 2023 IIHF World Junior Championship in Canada.
Lipskis, a 19-year-old from Sigulda, Latvia, is one of three goaltenders named to Team Latvia for the world's greatest under-20 hockey tournament. The event begins December 26 and runs through January 5, 2023 in Halifax, Nova Scotia and Moncton, New Brunswick.
"It is great for him," Bobcats' head coach Layne Sedevie said. "The exposure and everything that goes along with it … Playing for the Bobcats is great, but there is nothing better than playing for your country, being able to put that sweater on."
Lipskis has previously represented Latvia on the world stage, playing two games at the under-18 World Junior Championship in 2021.
As a Bobcat, Lipskis has played to a 2.64 goals against average in 17 games played. It is the Northern Michigan University commit's first season in North America.
Team Latvia's first World Juniors contest is against the United States on Monday, December 26 at 3:00 p.m. CT. NHL Network will carry television coverage of the tournament in the U.S.