Pococke named new Head Coach/GM for Jr. Blues
December 20, 2022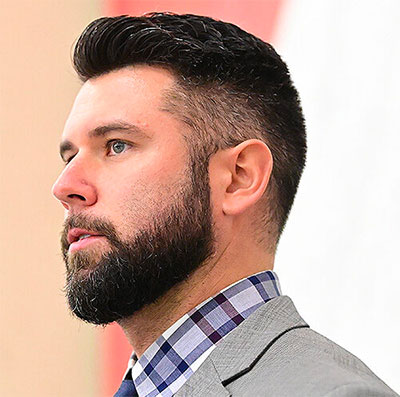 The Springfield Jr. Blues, proud members of the North American Hockey League (NAHL), are pleased to announce that current Assistant Coach Todd Pococke will take over General Manager & Head Coaching duties for the 2023-24 season.
"I'm extremely honored to be able to continue my coaching career here in Springfield," said Coach Pococke. "I want to thank our owner, Dan Ferguson, for giving me the opportunity to be the next head coach of this great organization and I also want to thank Tyler for all of his guidance over these last few years – showing me what it takes to be a great coach in this league. Most of all, I want to thank my wife, Andrea, for all of her support over the years and throughout this journey."
Todd is a native of Saginaw, MI and is currently in his third season here in the Capital City. His playing career began for HoneyBaked as a youth before transitioning to junior hockey where he suited up for longtime Jr. Blues rivals, the St. Louis Bandits. He was a part of their 2006-07 Robertson Cup Championship team that included current Jr. Blues scout Kyle O'Kane and current NHLers Patrick Maroon and Jon Cooper (Coach).
After playing one season of juniors he continued his playing career at Ferris State University, where he appeared in 101 games over four seasons with the Bulldogs, graduating in 2011. From there, Pococke transitioned rather smoothly into his coaching career: he led the Florida Jr. Blades to six straight playoff appearances, one runner up finish, and two Championships. During this time in Florida, Todd was able to suit up for several games with the Florida Everblades (ECHL) in addition to his role as Head Coach for the Jr. Blades.
Since arriving in Springfield, Todd has worked with Head Coach Rennette and Owner Dan Ferguson on growing the Jr. Blues presence within the community. During the 2019-20 season he represented the Jr. Blues in the Real Men Wear Pink Campaign for the American Cancer Society – finishing as the leading fundraiser in the Springfield district with over $5,000 raised.
"The Jr. Blues organization has a great history and carries a lot of pride and I'm looking forward to continuing being a part of that and keeping up with the high standards here in Springfield," said Todd on his future here with the team. "Helping these young men reach their goals – both as a team and individually – is a top priority along with being a present part of this great community. I plan to uphold that all while working hard to bring a championship back to Springfield. As thankful and excited I am for this opportunity, there is still plenty of this season left and work to be done!"
Todd will become the 12th Head Coach in Jr. Blues history, following in the footsteps of Tony Curtale, Nick Pollos, Andy Maher, and Tony Zasowski who have pathed the way for the future of hockey here in Springfield.