December 9, 2022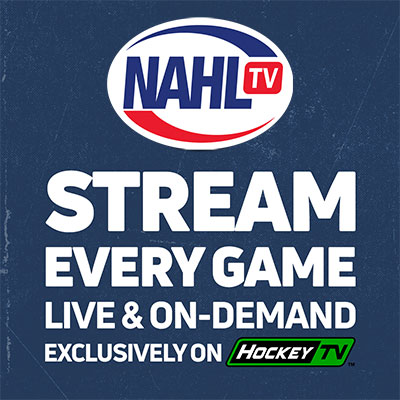 The NAHL is back in action this weekend with 25 games on the schedule from Friday-Sunday.
It was another good week for NCAA commitments as six more players made NCAA Division I commitments as the current season total is now up to 148 committed players.
Teams have this weekend and next weekend to try and pick up some more wins before the NAHL breaks for eight days from December 20-28.
In the Central Division this weekend, the 1st place Austin Bruins take a 10-point lead and three-game winning streak on the road to face Aberdeen for what will be four straight against the Wings on the schedule. Minot will look to snap a small losing skid as they are on the road to face the St. Cloud Norsemen. North Iowa and Bismarck are both idle.
In the East, the two times tied for 2nd place, Northeast and New Jersey, are both playing well as they face-off in Middletown for two games this weekend. The 1st place Maryland Black Bears are back home and looking to snap a five-game losing streak as they host the Philadelphia Rebels. The final series has Johnstown hosting Maine for two more games on Friday and Saturday, as the Nordiques won the opening game on the three-game series on Thursday night by a 5-2 score.
In the Midwest, the Wisconsin Windigo look to keep their hot play going as they put a four-game winning streak on the line against the Springfield Jr. Blues. The 1st place Minnesota Wilderness have a busy schedule as they are in Chippewa on Friday night and then Janesville on Saturday and Sunday. In Anchorage this weekend, the Wolverines will try and build upon their three-game winning streak as they host Kenai River. Fairbanks is idle.
In the South, all eight teams are in action. Shreveport puts their four-game winning streak on the line with a pair of games in Amarillo as the Wranglers look to snap a four-game slide. Odessa has won three in a row, including a 4-3 shootout win over Lone Star on Thursday, and look to continue their winning ways as they host Corpus Christi on Friday and Saturday. Oklahoma looks to pick up their second win of the weekend as they face New Mexico one more time on Friday after 6-4 on Thursday. The Brahmas will be in El Paso on Friday and Saturday and then El Paso and New Mexico will play an outdoor game in Los Alamos, NM on Sunday.
Watch all the action on HockeyTV
Download the all new NAHL App today! (iOS - Google Play)
FRI, DECEMBER 9
Maine at Johnstown - 7:30 PM EST
Northeast at New Jersey - 7:30 PM EST
Philadelphia at Maryland - 7:30 PM EST
MN Wilderness at Chippewa - 7:00 PM CST
Minot at St. Cloud - 7:00 PM CST
Springfield at Wisconsin - 7:00 PM CST
Austin at Aberdeen - 7:15 PM CST
Shreveport at Amarillo - 7:15 PM CST
Corpus Christi at Odessa - 7:15 PM CST
Oklahoma at New Mexico - 6:30 PM MST
Lone Star at El Paso - 7:00 PM MST
Kenai River at Anchorage - 7:00 PM AKST
SAT, DECEMBER 10
Maine at Johnstown - 7:00 PM EST
Northeast at New Jersey - 7:30 PM EST
Philadelphia at Maryland - 7:30 PM EST
MN Wilderness at Janesville - 7:00 PM CST
Minot at St. Cloud - 7:00 PM CST
Springfield at Wisconsin - 7:00 PM CST
Austin at Aberdeen - 7:15 PM CST
Shreveport at Amarillo - 7:15 PM CST
Corpus Christi at Odessa - 7:15 PM CST
Lone Star at El Paso - 7:00 PM MST
Kenai River at Anchorage - 7:00 PM AKST
SUN, DECEMBER 11
MN Wilderness at Janesville - 3:00 PM CST
El Paso at New Mexico - 2:00 PM MST