Odessa, Maine, and Oklahoma win on Thursday
December 9, 2022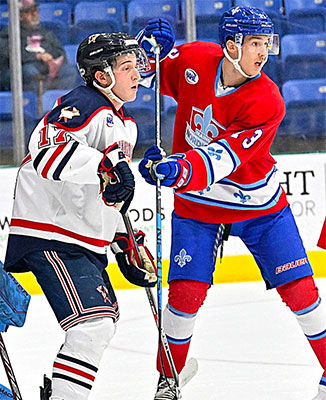 Lone Star 3 @ Odessa 4 (SO) – The Jackalopes knocked off the 1st place Brahmas on Thursday night thanks to a 4-3 shootout win. Ryan Kelly had a goal and also the shootout-winner. Most of the scoring came in the 1st period as Kelly, Marc Fletemeyer, and Emerson Goode all scored for Odessa, while Bauer Swift and Collin Kleiser had a pair of goals for the Brahmas. Lone Star tied the game at 3-3 late in the 2nd period thanks to a goal from Dhillon Wilde. In the shootout, Odessa got goals from Ryan Mansfield and Kelly, while Wilde scored the lone goal for the Brahmas. Jackalopes goalie Gergely Orosz made 42 saves in the win, while William Gramme made 27 saves in the loss.
Maine 5 @ Johnstown 2 – Defenseman Evan Orloff scored twice and Nordiques goalie Kael Depape made 37 saves as Maine picked up a 5-2 road win in Johnstown on Thrusday. Maine struck first in the opening period thanks to a goal from Filip Wiberg. Johnstown answered back in the 2nd period taking a 2-1 lead with goals from Drake Albers and Ryan Vellucci. In the 3rd period, it was all Nordiques as they scored four times, including two goals from Orloff and others from David Helledy and Kellen Murphy. Tomahawks goalie Alec Rajalin-Scharp made 22 saves in the loss.
Oklahoma 6 @ New Mexico 4 – Hunter Jones scored twice and Joey Delgreco had three assists as the Warriors picked up a 6-4 road win in New Mexico, handing the Ice Wolves their fourth straight loss. New Mexico got off to a fast start thanks to a goal from AJ Carls just :28 seconds into the game. The Warriors then seized control, scoring five straight goals to take a 5-1 lead in the 2nd period as Jones scored twice and Rylan Brady, Malte Hasselgren, and William Ahlrik also adding tallies. The Ice Wolves fought back to make it a 5-4 game early in the 3rd period with three straight goals from William Ericsson, Sully Scholle, and Hunter Hastings, but a late goal in the 3rd period from Owen Carlile secured the 6-4 win for Oklahoma. Daniel Duris made 36 saves in the win.