December 7, 2022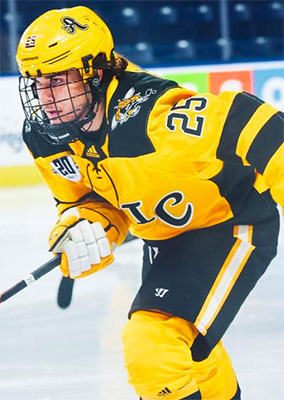 The Washington Capitals have recalled goaltender and NAHL alum Hunter Shepard (Bismarck Bobcats) from the Hershey Bears of the American Hockey League (AHL). Shepard, 27, has posted a record of 6-0-2 with a 1.83 goals-against average and .932 save percentage in eight games with Hershey this season. The 6'0", 215-pound goaltender ranks first in the AHL in goals-against average and save percentage and tied for ninth in wins. Shepard was named the AHL Goaltender of the Month for November after posting a record of 6-0-0 with a 1.63 goals-against average and a .936 save percentage in six games played. The Cohasset, Minnesota native appeared in nine games with Hershey during the 2021-22 season, finishing with a 5-3-0 record with one shutout, a 2.06 goals-against average and a .922 save percentage. Shepard also appeared in 23 games for the South Carolina Stingrays of the ECHL, posting a record of 12-9-2 with a 2.88 goals-against average, a .917 save percentage and two shutouts. In 20 career AHL games with Hershey, Shepard has a record of 14-3-2 with a 1.80 goals-against average, a .934 save percentage and two shutouts. Shepard has a 24-15-4 record with a 2.73 goals-against average and a .919 save percentage in 44 career ECHL games with South Carolina. Shepard signed an AHL contract with Hershey on June 30, 2020, following a four-year career with the University of Minnesota-Duluth Bulldogs in the NCAA. In 119 games with the team - which included an NCAA-record 115 straight games from Oct. 21, 2017 to March 7, 2020 - Shepard finished with a 76-37-5 record, ranking first all-time in Bulldogs history in wins, goals-against average (1.94), save percentage (.922) and shutouts (17). Shepard won back-to-back NCAA Championships with the Bulldogs in 2018 and 2019, was twice named the National Collegiate Hockey Conference (NCHC) Goaltender of the Year (2019 and 2020), earned First-Team All-American honors in 2019 and Second-Team All-American honors in 2020. Shepard finished his NCAA career as a three-time Mike Richter Award Finalist - given to the NCAA's top goaltender - and a three-time All-NCHC selection. Prior to his NCAA and pro career, Shepard appeared in 81 games with the Bismarck Bobcats of the North American Hockey League (NAHL) from 2014-15 through 2015-16. In 2015-16, Shepard earned North American Hockey League Goaltender of the Year honors, was named to the First All-Star Team and led the NAHL in games played (50), wins (34), and shutouts (8), while ranking second in goals against average (1.90).
ECAC Goaltender of the Month: Ethan Haider, Clarkson (Minnesota Magicians) - Ethan Haider (Jr., Clarkson) earns Goaltender of the Month after a November that saw him finish with a 5-1 record. Haider earned back-to-back shutouts to get the month back on track, blanking Rensselaer 3-0 (November 5) and Colgate 4-0 (November 11), then allowed just five goals through his next three contests. Haider closed out the month with a 55-save weekend against Arizona State and improved his stats to league-leading 1.34 goals against average and .937 save percentage.
Atlantic Hockey Goalie of the Week: Jason Grande, Holy Cross (Amarillo Bulls) - Holy Cross junior Jason Grande had a stellar weekend for the Crusaders in their road sweep of Air Force. On Friday, the West Chester, Pa., native stopped 28-of-29 shots, with the lone Falcon goal coming on the power play. On Saturday, he made 27 saves in a 2-1 win that completed the sweep. With the two wins, Grande moved to 4-2-0 on the season with a 3.08 GAA and .897 save percentage. This is his first career Atlantic Hockey weekly honor.
Atlantic Hockey Rookie of the Week: Alexander Malinowski, F, AIC (Fairbanks Ice Dogs) - AIC's Alexander Malinowski was strong at both ends for the Yellow Jackets in their home-and-home sweep of Bentley. The Linkoping, Sweden, native notched a goal and two assists in the two games, with two shots on goals, three blocks and a +3 rating. This is his first career Atlantic Hockey weekly honor.
CCHA Forward of the Week: Taylor Schneider, Jr., Bowling Green (Brookings Blizzard) - Schneider led all CCHA skaters with five points on three goals and two assists, helping the Falcons to a road sweep of Lake Superior State last week. He scored two goals with one assist on Friday in a 7-4 victory over the Lakers, before collecting a goal and an assist in a 5-1 win on Saturday. For the week, he was +3 with six shots and four blocks at the defensive end, while winning 53.8% of his face-offs.
CCHA Rookie of the Week: Andrew Noel, Fr Ferris State (Maine Nordiques) - Noel helped Ferris State to a sweep at then-No. 11/13 Minnesota State last weekend, scoring a goal and assisting on another for two points. The tally, which was the first of the defenseman's collegiate career, tied Saturday's game at 2-2. He then assisted on the eventual game-winner in the third period. For the weekend, he was +1 with three shots on goal and three blocks.
ECAC Goaltender of the Week: Ian Shane, Cornell (Bismarck Bobcats) - Ian Shane (So., Cornell) went back-to-back this weekend against Harvard and Dartmouth, posting an overtime loss and a win, respectively. On Friday at home, Shane made 21 saves against big-time rivals Harvard, allowing just two goals through three periods and 1:11 of overtime. Saturday's contest saw Shane earn his second shutout of the season as he turned aside all 11 shots he faced against Dartmouth. He finished the weekend with 32 total saves and a .941 save percentage.
ECAC Rookie of the Week: Ryan Bottrill, F, Brown (Maryland/Janesville) – Bottrill put up five points this week in three games, including two goals and three assists. On Tuesday, Bottrill assisted on the Bears' first goal of the game in the third period, an even strength tally with just over two minutes left in the game. He kept his production up through Brown's weekend split with Long Island, scoring on the power play on Saturday to give the Bears a 3-0 lead and keep the offense rolling. Bottrill couldn't be stopped on Sunday either, assisting on the team's first two goals of the game, then dding another goal of his own in the second period to put Brown up by two.
ECHL Player of the Week: Derek Lodermeier, F, Jacksonville Icemen (Soo Eagles) - Derek Lodermeier of the Jacksonville Icemen is the Inglasco ECHL Player of the Week for Nov. 28-Dec. 4. Lodermeier scored four goals and added two assists for six points in three games last week. The 27-year-old had a goal and assist on Thursday at Greenville and Friday and South Carolina before scoring a pair of goals on Saturday against Orlando. A native of Brooklyn Center, Minnesota, Lodermeier has 12 points (7g-5a) in 18 games with the Icemen this season.