December 2, 2022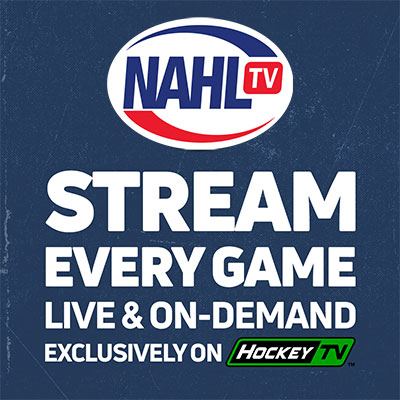 The NAHL is back in action this weekend as the calendar turns to December and the midway point of the season approaches.
It was another good week for NCAA commitments as six more players made NCAA Division I commitments as the current season total is now up to 142 committed players.
This weekend is another busy one on the calendar with 25 games on the schedule on Friday and Saturday night, which includes several intriguing match-ups.
While the Austin Bruins are 8-1-1 in their last 10 games and sitting comfortably in 1st place in the Central Division, it is the Aberdeen Wings who enter the weekend as the hottest team, riding a four-game winning streak as they head to Bismarck. Meanwhile the 1st place Bruins will have an interesting series as they face 2nd place Minot. St. Clould will be playing outside of the division as they look to snap a three-game slide at the Wilderness. The North Iowa Bulls are also playing outside of the division as they travel to Springfield to face the Jr. Blues.
In the East, the Maryland Black Bears have cooled down, but still enjoy a 14-point lead atop the division as they head on the road to face the 2nd place Northeast Generals. The red-hot New Jersey Titans, who have won six in a row, are at home to face the Maine Nordiques, who have won three in a row. The final series has Danbury in Philadelphia.
In the Midwest, Alaskan rivals Anchorage and Kenai River will do battle as the Brown Bears enter the weekend on a three-game winning streak. Fairbanks is back down in the lower 48 as they are in Wisconsin to face the Steel. Out of the division, Springfield hosts North Iowa and the Wilderness host St. Cloud. Janesville and Wisconsin are idle.
In the South, the big battle this weekend is in North Richland Hills as the 1st place Oklahoma Warriors visit the Lone Star Brahmas. The Warriors are one point ahead of the Brahmas for 1st place in the South. In other action, the Corpus Christi IceRays will try and complete a weekend sweep of El Paso on Friday after coming away with a 6-2 win on Thursday. Odessa is back home looking to snap a five-game losing streak as they host Amarillo and New Mexico is in Shreveport.
Watch all the action on HockeyTV
Download the all new NAHL App today! (iOS - Google Play)
FRI, DECEMBER 2
Maryland at Northeast - 7:00 PM EST
Maine at New Jersey - 7:30 PM EST
Danbury at Philadelphia - 8:00 PM EST
Minot at Austin - 7:05 PM CST
El Paso at Corpus Christi - 7:05 PM CST
North Iowa at Springfield - 7:05 PM CST
New Mexico at Shreveport - 7:11 PM CST
Aberdeen at Bismarck - 7:15 PM CST
St. Cloud at MN Wilderness - 7:15 PM CST
Amarillo at Odessa - 7:15 PM CST
Fairbanks at Chippewa - 7:30 PM CST
Oklahoma at Lone Star - 7:30 PM CST
Anchorage at Kenai River - 7:30 PM AKST
SAT, DECEMBER 3
Maine at New Jersey - 7:00 PM EST
Maryland at Northeast - 7:00 PM EST
North Iowa at Springfield - 6:05 PM CST
Danbury at Philadelphia - 7:30 PM EST
MN Wilderness at St. Cloud - 7:00 PM CST
Minot at Austin - 7:05 PM CST
New Mexico at Shreveport - 7:11 PM CST
Aberdeen at Bismarck - 7:15 PM CST
Amarillo at Odessa - 7:15 PM CST
Fairbanks at Chippewa - 7:30 PM CST
Oklahoma at Lone Star - 7:30 PM CST
Anchorage at Kenai River - 7:30 PM AKST