Tomahawks edge Rebels on Sunday, 5-4
November 27, 2022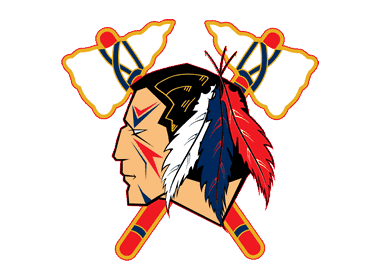 Johnstown 5 @ Philadelphia 4 - The Johnstown Tomahawks came away with a 5-4 win over the Philadelphia Rebels Sunday afternoon to win two of three games in the series this weekend at Hollydell Ice Arena.
Philadelphia opened the scoring Sunday afternoon with a goal from Dominic Foglia 3:11 into the game. The lead didn't last long for the Rebels as Ethan Perrault scored his second goal of the season just over five minutes later, tying the game at one to go to the second period.
The Rebels began the second period with 35 seconds of power play time as Tyler DesRochers was sent to the box late in the first for slashing. While the Tomahawks killed off the penalty, Anthony Galante was sent off 16 seconds later for goaltender interference, giving the Rebels another crack at the power play. Philadelphia found success on their second chance as Foglia netted his second goal of the game to put his team up 2-1. Will Lawrence set the pace for the remainder of the period as he scored the first of three goals in four minutes for the Tomahawks. The Rebels ran into penalty trouble late in the period and both Ryan Vellucci and James Barbour's goals to follow came on the power play. The Tomahawks ended the second period with a 4-2 lead and 30 shots on goal through the first 40 minutes.
Klaus Jogi got the Rebels within one late in the third period with a power play goal. Philadelphia was awarded another power play opportunity later in regulation, but the Tomahawks were able to kill it off. Drake Albers extended the lead for Johnstown with an empty net goal, giving the Tomahawks a 5-3 lead, but Philadelphia responded 13 seconds later as Josh Player made it a one-goal game yet again with 39 seconds remaining in regulation. The Tomahawks were able to hold on and win 5-4 Sunday afternoon to secure the series win over the Rebels.
Johnstown goalie Alec Rajalin-Scharp made 29 saves in the win, while Jack Fialkoff made 35 saves in the loss.