NAHL partners with Official Adventures for National Reading Month
November 18, 2022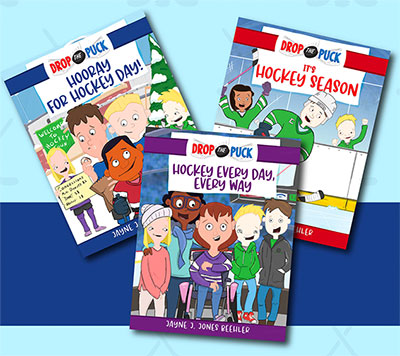 The North American Hockey League (NAHL) is pleased to welcome Official Adventures as the title sponsor of the NAHL's National Reading Month Promotion to take place March of 2023.
Official Adventures' Drop The Puck series are based on true stories and celebrate sports-loving children of all types and abilities, as readers follow the stories of a group of kids in fictional Hockeytown, USA, who bond and grow together, united by their shared love of hockey. he series has inspired and delighted children in the US and Canada, and has many fans in the NHL.
The series was created by author Jayne J. Jones Beehler with the goal of acclimating young hockey fans to these players - and fans - with disabilities.
"We are thrilled to partner with the North American Hockey League for National Reading Month. Our books use the sport of hockey and the bond between teammates to tell some unique and inspiring stories," said Chris Beehler of Drop the Puck. "The books teach real life lessons through sport, through victory and losses, and each of them emphasizes the importance of hard work, regardless of the score. They are a perfect choice for National Reading Month and we appreciate the NAHL getting behind it."
Every year March is National Reading Month. Kicking off with 'Read Across America Day' on March 2nd, the birthday of one of the most beloved children's authors of all time - Dr. Suess.
The NAHL will spend the month of March promoting reading in an effort to motivate and encourage individuals of all ages to read. Reading is not only fun but has many benefits including helping to increase cognitive function, memory, and vocabulary. Reading has also been proven to enhance creativity and decrease stress levels. According to research reading for as little as six minutes a day can reduce stress.
For more information about Drop The Puck books visit: https://www.officialadventures.org/