November 18, 2022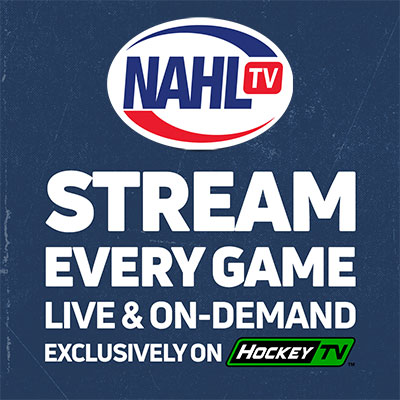 Just 23 games are on the schedule for a pre-Thanksgiving weekend in the NAHL as November starts to wind down.
It was another good week for NCAA commitments as some more players make NCAA Division I commitments as the current season total is now up to 133 committed players.
Next week will be a busy one with plenty of NAHL games during Thanksgiving week, including five games on Wednesday night.
This weekend in the Central, it's time to play catch up for four teams as the top two teams in the standings, Austin and Aberdeen, are both idle. Minot will be in St. Cloud for two games as they look to snap a four-game losing streak. Also looking to snap a four-game slide is North Iowa, who will play host to Bismarck.
In the East, the 1st place Maryland Black Bears put their six-game winning streak on the line Johnstown as the Tomahawks try and cool off one of the hottest teams in the league. Philadelphia will be in Danbury for two games as both teams look to snap extended losing streaks. The New Jersey Titans will take to the road to face the Northeast Generals.
In the Midwest, the battle of Wisconsin continues as the 1st place Janesville Jets are in Eagle River to take on the Windigo. Chippewa is back from a week off as they host the Minnesota Wilderness with each team tied in the standings with 24 points. In other action, Springfield is in Fairbanks for a pair of games and Anchorage takes the small trip south to face Kenai River.
In the South, the Oklahoma Warriors look for a weekend sweep and also to extend their winning streak as they face Odessa for one more game on Friday after winning on Thursday, 4-2. In other action, 3rd place New Mexico will host Corpus Christi for a pair of games and El Paso is in Amarillo.
Watch all the action on HockeyTV
Download the all new NAHL App today! (iOS - Google Play)
FRI, NOVEMBER 18
Philadelphia at Danbury - 7:00 PM EST
New Jersey at Northeast - 7:00 PM EST
Maryland at Johnstown - 7:30 PM EST
MN Wilderness at Chippewa - 7:00 PM CST
Minot at St. Cloud - 7:00 PM CST
Janesville at Wisconsin - 7:00 PM CST
Bismarck at North Iowa - 7:10 PM CST
El Paso at Amarillo - 7:15 PM CST
Odessa at Oklahoma - 7:15 PM CST
Corpus Christi at New Mexico - 6:30 PM MST
Springfield at Fairbanks - 7:30 PM AKST
Anchorage at Kenai River - 7:30 PM AKST
SAT, NOVEMBER 19
Philadelphia at Danbury - 7:00 PM EST
Maryland at Johnstown - 7:00 PM EST
New Jersey at Northeast - 7:00 PM EST
MN Wilderness at Chippewa - 7:00 PM CST
Minot at St. Cloud - 7:00 PM CST
Janesville at Wisconsin - 7:00 PM CST
Bismarck at North Iowa - 7:10 PM CST
El Paso at Amarillo - 7:15 PM CST
Corpus Christi at New Mexico - 6:30 PM MST
Springfield at Fairbanks - 7:30 PM AKST
Anchorage at Kenai River - 7:30 PM AKST