Black Bears win streak hits 6 thanks to win on Tuesday
November 16, 2022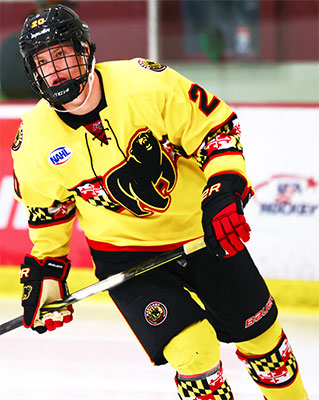 Maryland 5 @ Philadelphia 2 – Samuel Stitz had three points and Christian Catalano scored twice as the Black Bears winning streak hit six in a row thanks to a 5-2 win in Philadelphia on Tuesday night.
Philadelphia was first on the board as David Deputy netted his 5th goal of the season less than three minutes into the game. Maryland would respond with two goals later in the 1st period as Dimitry Kebreau scored his 16th goal of the season and Catalano netted his first of the game on the power play for his 18th goal of the season.
In the 2nd period, the Black Bears took control of the game with three more goals to make it a 5-1 contest. Stitz scored his 3rd goal of the season to make it 3-1 just four minutes into the frame. Adam Schankula scored his 3rd goal of the season to make it 4-1, and then Catalano scored his league-leading 19th goal of the season to make it 5-1.
The Rebels would get a 3rd period goal from Kristians Samitis to complete the scoring.
Black Bears goalie Jack Wieneke made 23 saves in the win, while Jack Fialkoff made 30 saves in the loss, which was the fifth straight for the Rebels.