November 11, 2022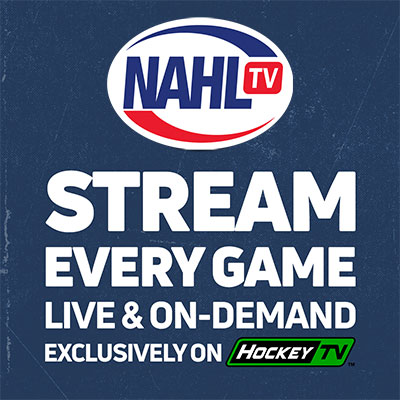 26 games are on the schedule this veterans day weekend as the weather continues to turn cooler, while the action on the ice heats up.
It was another good week for NCAA commitments as a couple more players make NCAA Division I commitments as the current season total is now up to 129 committed players.
The month of November is a busy one for the NAHL, which includes the league-wide campaign for the Children of Fallen Patriots Foundation.
In addition, eight players with NAHL ties have been recognized on the National Hockey League's (NHL) 'Prospects to Watch' list for 2023 draft-eligible players with the release of NHL Central Scouting's preliminary list of players to watch in North America and Europe.
In the Central, it is a déjà vu weekend as all the teams playing one another are doing so in back-to-back weeks. The red-hot and 1st place Austin Bruins are home playing Minot again after sweeping the Minotauros on the road last weekend. Aberdeen will host North Iowa after the two clubs split in Mason City last weekend. St. Cloud and Bismarck will tangle for a second straight weekend after splitting last week.
In the East, Johnstown picked up a 4-1 win over Danbury on Thursday and looks for the weekend sweep on Friday. The Maine Nordiques put their six-game winning streak on the line as they host the 2nd place Northeast Generals. The 1st place Maryland Black Bears put their three-game winning streak on the line at home against the Philadelphia Rebels.
In the Midwest, the 1st place Janesville Jets return home to host the Wisconsin Windigo. The Fairbanks Ice Dogs, who are also tied for 1st place, will return home to face the Minnesota Wilderness who have won three straight. The Springfield Jr. Blues are in Kenai River for three games against the Brown Bears.
In the South, it's a full schedule as all eight teams are in action. The 1st place Lone Star Brahmas are at home and will host Shreveport who have lost five straight. Winning streaks collide in Oklahoma as the 3rd place Warriors host the 2nd place New Mexico Ice Wolves. The Corpus Christi IceRays are back home and looking to snap a nine-game losing streak as they host Amarillo. The final series has El Paso visiting Odessa for two games.
Watch all the action on HockeyTV
Download the all new NAHL App today! (iOS - Google Play)
FRI, NOVEMBER 11
Northeast at Maine - 7:05 PM EST
Danbury at Johnstown - 7:30 PM EST
Philadelphia at Maryland - 7:30 PM EST
Wisconsin at Janesville - 7:00 PM CST
Minot at Austin - 7:05 PM CST
Amarillo at Corpus Christi - 7:05 PM CST
North Iowa at Aberdeen - 7:15 PM CST
St. Cloud at Bismarck - 7:15 PM CST
El Paso at Odessa - 7:15 PM CST
New Mexico at Oklahoma - 7:15 PM CST
Shreveport at Lone Star - 7:30 PM CST
MN Wilderness at Fairbanks - 7:30 PM AKST
Springfield at Kenai River - 7:30 PM AKST
SAT, NOVEMBER 12
Northeast at Maine - 7:00 PM EST
Philadelphia at Maryland - 7:30 PM EST
Wisconsin at Janesville - 7:00 PM CST
Minot at Austin - 7:05 PM CST
Amarillo at Corpus Christi - 7:05 PM CST
North Iowa at Aberdeen - 7:15 PM CST
St. Cloud at Bismarck - 7:15 PM CST
El Paso at Odessa - 7:15 PM CST
New Mexico at Oklahoma - 7:15 PM CST
Shreveport at Lone Star - 7:30 PM CST
MN Wilderness at Fairbanks - 7:30 PM AKST
Springfield at Kenai River - 7:30 PM AKST
SUN, NOVEMBER 13
Springfield at Kenai River - 5:00 PM AKST