Johnstown beats Danbury on Thursday, 4-1
November 11, 2022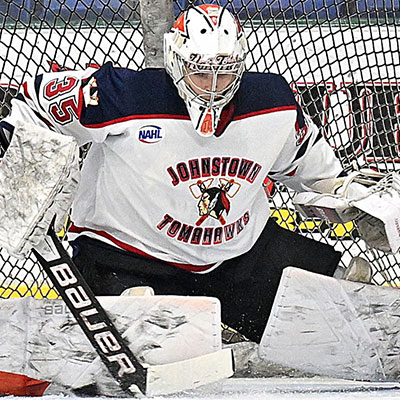 Danbury 1 @ Johnstown 4 – Adam Johnson made 21 saves against his old team and Anthony Galante had a multi-point game as the Tomahawks picked up a 4-1 win at home over Danbury on Thursday.
The Tomahawks had the advantage early, with two power play opportunities in the opening period. Despite not being able to convert either time, assistant captain Ethan Perrault found the back of the net for the first time this season, putting the Tomahawks on the board with 3:26 left in the first period to give the Tomahawks a 1-0 lead going into the intermission.
Danbury's Andrew Eberling got his team on the board early in the second period, solving former teammate, netminder Adam Johnson for the first time Thursday night. David Matousek regained the lead for the Tomahawks with 9:04 remaining in the second period, netting his fourth goal of the season. Through two periods, Johnstown had a total of 22 shots on goal and were hungry for more going into the third period.
James Barbour's fifth goal of the season secured the game for the Tomahawks on the power play at the 13:46 mark of the third period, giving the Tomahawks a 3-1 lead. Anthony Galante capped off the night for Johnstown with an empty net goal scored with just three seconds to spare, giving the Tomahawks a 4-1 win in game one of two against the Danbury Jr. Hat Tricks.
Danbury goalie Patriks Berzins made 28 saves in the loss.