November 9, 2022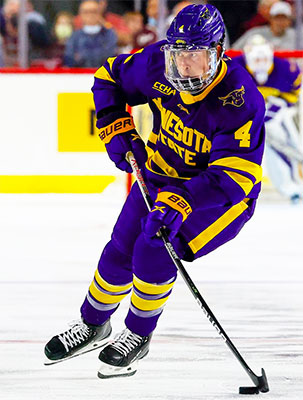 Atlantic Hockey Defensive Player of the Week: Noah Carlin, Niagara (Amarillo Bulls) - Sophomore Noah Carlin contributed a goal and an assist to the Purple Eagle attack in Niagara's weekend sweep at Bentley. The Marine City, Mich., native scored his first career goal on Friday as he potted a third period short-handed goal in NU's 6-0 win. Saturday, he added an assist on Niagara's game-winning goal. He played valuable minutes on the penalty kill as NU killed all eight Bentley power plays in the series and was a member of a power-play unit that finished three-for-seven this weekend. Carlin led the team with nine blocks and was +2 on the weekend. This is his first career AHA weekly honor.
Atlantic Hockey Goalie of the Week: Chad Veltri, Niagara (Corpus Christi IceRays) - Senior Chad Veltri became Atlantic Hockey's active leader in shutouts with five following a 34-save performance on Friday in a 6-0 win at Bentley. The Pittsburgh, Pa., native turned away 32-of-34 shots in Saturday as the Purple Eagles skated to a 4-2 win and picked up their first AHA road sweep since the 2017-18 season. He finished the weekend with a .971 save percentage with 66 saves on 68 shots and posted a 1.01 goals-against average. This is Veltri's fifth career AHA weekly honor and second this season.
CCHA Defenseman of the Week: Andy Carroll, Minnesota State (Aberdeen Wings) - Carroll recorded three assists for three points, a shot on goal and was a +1 with two blocked shots over the course of two league wins over St. Thomas last weekend. One of his three helpers set up Ondrej Pavel's game-winning goal on Friday in Minnesota State's 7-2 road win over the Tommies.
CCHA Goaltender of the Week: Christian Stoever, Bowling Green (New Jersey/WBS Knights) - Stoever went 1-1-0 with a 2.05 goals-against average and a .947 save percentage in two CCHA games last week, helping Bowling Green to a split with Michigan Tech. Making a league-high 71 saves in 117:17 minutes, he recorded 35 stops on Friday and 36 on Saturday, aiding the Falcons to a 6-1 win over the Huskies.
ECAC Goaltender of the Week: Cooper Black, Dartmouth (Odessa Jackalopes) – Black earned his first win of the season in the most dramatic of fashions, with a 28-save shutout of Yale on Friday. The first year went 1-0-1 on the weekend, making 47 saves across two contests and allowing just two goals on nearly 50 shots. He was tested in overtime on Saturday and in the shootout, but defended against both and helped the Big Green earn the extra point.
Hockey East Goalie of the Week: Henry Welsch, UMass-Lowell (Aberdeen Wings) – Welsch earned back-to-back shutouts to help lead the River Hawks to a sweep of the Vermont Catamounts. He made 11 saves on Friday to pick up a 4-0 shutout and stopped 25 shots on Saturday to remain flawless and move to a 5-1-0 record on the season. He currently ranks second in the conference in goals against average (1.34) and save percentage (.952) and sits fourth in the country in GAA and save percentage and sits in a tie for second in the country in shutouts with two.
NCHC Defenseman of the Week: Kyle Mayhew, Denver (Fairbanks/Aberdeen) - Mayhew was a solid contributor at both ends of the ice to help Denver earn four points in conference play against No. 4 St. Cloud State. On Friday, he dished out an assist that helped put DU ahead, 2-1, in an eventual overtime loss. The assistant captain also blocked two shots in the series opener and led the Pioneers to go 2-for-2 on the penalty kill. A night later, Mayhew scored his first goal of the season on the power play, putting Denver in front, 3-1, in an eventual 3-2 victory. His goal served as the game-winner, his second career game-winning goal, which was one of two shots on goal he fired on the night. Mayhew ended the weekend with a game-winning goal, an assist, a +1 plus/minus and two shots on goal. He also played on a penalty kill unit that finished the weekend 5-for-7. Mayhew tripled his season point total against SCSU, entering with only an assist on the year. He is now riding a career-long-tying three-game point streak after a point each night against the Huskies.
ECHL Goalie of the Week: Jake Kupsky, Idaho Steelheads (Lone Star Brahmas) - Jake Kupsky of the Idaho Steelheads is the Warrior Hockey ECHL Goaltender of the Week for Oct. 31-Nov. 6. It is the second time in his career that he has received the weekly honor. Kupsky went 3-0-0 with one shutout, a 1.00 goals-against average and a save percentage of .963 in three appearances against Rapid City last week. The 27-year-old turned aside 25 shots in a 3-2 win on Wednesday, made 27 saves in a 4-1 victory on Wednesday and stopped all 27 shots in a 5-0 win on Saturday. A native of Waukesha, Wisconsin, Kupsky is 4-0-0 in four appearances this season and leads the ECHL with two shutouts, while ranking second with a 0.75 goals-against average and a .971 save percentage.
SPHL Player of the Week: Josh Benson, G, Macon Mayhem (Fairbanks Ice Dogs) - The Southern Professional Hockey League (SPHL) announced today that Josh Benson of the Macon Mayhem has been named the Warrior Player of the Week for October 31-November 6. Benson recorded the first shutout of his professional career, leading the Mayhem to their first win of the season on Saturday. Benson stopped all 30 shots he faced, picking up his first victory in a 4-0 blanking of Fayetteville. With the victory, Benson now ranks tied for first in shutout wins with Huntsville's Nick Latinovich, and Peoria's Eric Levine. The Stillwater, Minnesota native now carries a .902 save percentage which is tops amongst Macon netminders this season.