Warriors win 5th straight to move into 2nd place
November 4, 2022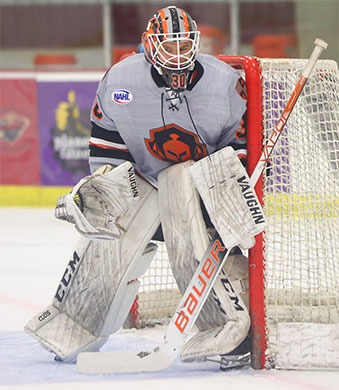 Oklahoma 3 @ Amarillo 1 – The Warriors won their 5th straight game and moved into sole possession of 2nd place in the South Division thanks to a 3-1 win on Thursday in Amarillo against the Wranglers.
It took less than two minutes for the Wranglers to strike first as Jacob Halliday scored his second goal of the season at the 1:52 mark. Five minutes later, the Warriors equalized the game at 1-1 as William Lawson-Body scored his 4th goal of the season. Before the end of the period, the Warriors took their first lead of the game as Matle Hasselgren scored to make it 2-1.
After a scoreless 2nd period, the Warriors found their insurance goal early in the 3rd period as defenseman Owen Baumgartner scored his 3rd goal of the season to make it a 3-1 game.
Warriors goalie Daniel Duris improved his season record to 6-0 as he stopped 31 of 32 shots in the win, while Amarillo goalie Carter Clafton made 27 saves in the loss.