NAHL announces monthly player awards for October
November 2, 2022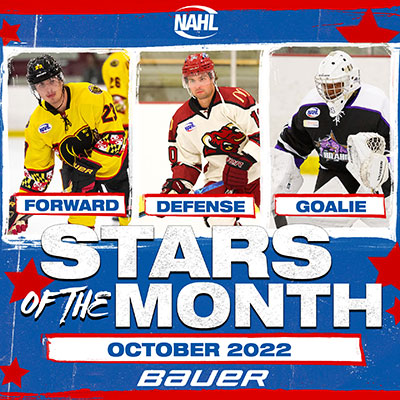 The North American Hockey League (NAHL) has announced its monthly player awards for the month of October. The Forward of the Month is Christian Catalano from the Maryland Black Bears. The Defenseman of the Month is Nick O'Hanisain from the Minot Minotauros. The Goaltender of the Month is Arthur Smith from the Lone Star Brahmas. Only players who are nominated by their respective teams are considered for the NAHL monthly awards.
Bauer Hockey NAHL Forward of the Month: Christian Catalano, Maryland Black Bears
Maryland Black Bears forward Christian Catalano, 19, was on fire during the month of October as the 1st place Black Bears put together an 8-2-0 record. The 6'1/185 lbs. native of Mississauga, ON, put up 13 points, including nine goals and 4 assists during the 10 games in October. That included five multi-point games, two game-winning goals, and a +8 rating during the month. Catalano, who is committed to play NCAA Division I hockey for the Rochester Institute of Technology, is currently the NAHL's leading scorer with 26 points in 19 games played. "What a great month by Christian. As much as he is skilled and fast, it's his competitive drive and will to succeed that allows him to showcase these skills. He is well deserving of this honor," said Black Bears head coach Clint Mylymok.
"Our team has been off to a great start. Ever since training camp, we have treated every practice like a game. Our team brings intensity and attention to detail on and off the ice. Our coaches keep us all accountable, which has really created a positive environment that helped the team and me have a great start," said Catalano. "This season I want to keep developing as a player and I want to get ready for the NCAA Division I level next year so that I can have a big impact."
Runner-Up: Aiden Westin, Anchorage Wolverines
Honorable Mention (alphabetical): David Andreychuk, Northeast Generals – Dominic Bartecko, Amarillo Wranglers – David Deputy, Philadelphia Rebels – Logan Dombrowsky, North Iowa Bulls – Brendan Dumas, New Jersey Titans – Anthony Galante, Johnstown Tomahawks – Malte Hasselgren, Oklahoma Warriors – William Howard, New Mexico Ice Wolves – Ryan Johnson, Danbury Jr. Hat Tricks – Hunter Longhi, Minot Minotauros – Bryce Monrean, Kenai River Brown Bears – Kade Nielsen, Chippewa Steel – Johan Rosenquist, Lone Star Brahmas – Will Schumacher, Wisconsin Windigo – Nikolai Tishkevich, Aberdeen Wings
Bauer Hockey NAHL Defenseman of the Month: Nick O'Hanisain, Minot Minotauros
Minot Minotauros defenseman Nick O'Hanisain, 20, had a big month of October to help the MInotauros to a 7-1 record during the month as they moved into a tie for 1st place in the Central Division. The 5'11/181 lbs. native of Troy, MI, led all NAHL defensemen in scoring during the month with 12 points (3 goals, 9 assist) in eight games played. That included five multi-point games and +5 rating in October. O'Hanisain, who is currently uncommitted, is currently 2nd in scoring among NAHL defensemen with 17 points in 15 games played. "Nick has arguably been our best player all season long and has also been a fantastic leader for our group. He has been our most reliable defenseman when it comes to keeping pucks out of our net and he's been consistently producing offensively. We are thrilled that he is being recognized for his outstanding play and look forward to continuing to help Nick accomplish his goal of playing NCAA Division I college hockey," said Minot head coach Cody Campbell.
"I think just the chemistry and confidence in the locker room and throughout the organization enabled me and the rest of the team to have a great start. We really care for each other and want to win for everyone in our room," said O'Hanisain. "My short-term goal for the season is to earn an NCAA Division I college scholarship as long as I help put my team in a position to win every night. A long-term goal I have is to play hockey professionally."
Runner-Up: Sean Kilcullen, Maryland Black Bears
Honorable Mention (alphabetical): Joe Calvarino, Philadelphia Rebels – Tyler DesRochers, Johnstown Tomahawks – Paavo Hiltunen, North Iowa Bulls – Garrett Horsager, Oklahoma Warriors – Caleb Huffman, Kenai River Brown Bears – Jeff Hutchinson, New Mexico Ice Wolves – Cole Mickel, Wisconsin Windigo – Cooper Morris, Anchorage Wolverines – Ryan Prewitt, Lone Star Brahmas – Rihards Simanovics, Amarillo Wranglers – Broderick Williams, Aberdeen Wings
True Hockey NAHL Goaltender of the Month: Arthur Smith, Lone Star Brahmas
Lone Star Brahmas goalie Arthur Smith, 18, has picked up right where he left off last year. The 6'3/195 lbs. native of Farmington, CT, who was both the NAHL Goaltender and Rookie of the Year during the 2021-22 season, has taken his game to the next level this season, which includes some incredible numbers in October. Smith, who is committed to play NCAA Division I hockey at Princeton University, played in five games during the month and posted a 4-0-1 record, allowing just three goals in the five games. Smith faced 97 shots and made 94 saves, which included two shutouts during the month. "Anytime you get the reigning Goalie of the Year back on your roster, it is going to be a huge boost to the team. This season, Arthur has really accepted and taken on a leadership role with the team. He is an exceptional player and person. We are fortunate to have two world-class goalies this season who are both committed to NCAA Division I schools. I think the key for Arthur in October was slowing the game down and seeing everything well. We are looking for him to continue to grow his game and prepare for the NCAA next season," said Brahmas head coach Dan Wildfong.
"Our team's experienced core of defensemen and dedication to pushing each other every day has created a strong culture within our locker room and that translates into deep trust on the ice. We also have a list of team identities and qualities that allow us to be confident in each other. As a team, we are working to get better every day and still have fun playing the game we all love," said Smith. "My goals for this season are to win the Robertson Cup Championship, while also contributing to an already strong Brahmas culture. I want to be an example for players and teams in the future. My personal goals are to win an NCAA Championship and to play in the NHL."
Runner-Up: Lawton Zacher, Minot Minotauros
Honorable Mention (alphabetical): Patriks Berzins, Danbury Jr. Hat Tricks – Will Craig, New Mexico Ice Wolves – Mitch Day, North Iowa Bulls – Daniel Duris, Oklahoma Warriors – William Hakansson, Maryland Black Bears – Kayden Hargraves, Fairbanks Ice Dogs – Toby Hopp, Northeast Generals – Jakub Krbecek, Philadelphia Rebels – Cole Moore, Aberdeen Wings – Isak Posch, Minnesota Wilderness – Carter Wishart, Chippewa Steel