NAHL has eight players listed by NHL Central Scouting
October 25, 2022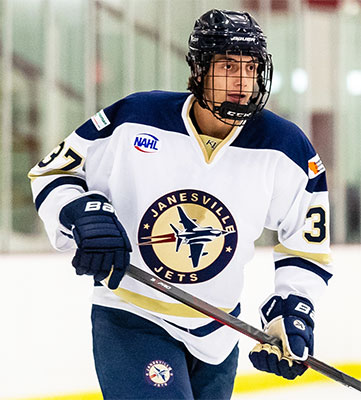 Coming off another successful and memorable NAHL Showcase six weeks ago, the NAHL is pleased to announce that several players with NAHL ties have been recognized by NHL Central Scouting.
Eight players with NAHL ties have been recognized on the National Hockey League's (NHL) 'Prospects to Watch' list for 2023 draft-eligible players with the release of NHL Central Scouting's preliminary list of players to watch in North America and Europe.
The list included five players that are currently playing in the NAHL this season and three former players now playing in another league who all played in the NAHL during the 2021-22 season.
Over 40+ NHL scouts, including those from NHL Central Scouting, were on hand at the NAHL Showcase back in September scouting players at the NAHL Showcase.
The lists, comprised of "A," "B" and "C" players for the upcoming season in each of the major junior hockey leagues, are sent to NHL team scouts for the purpose of tracking the top draft-eligible players entering the 2022-23 season. The players on the preliminary list with A ratings are considered potential first-round picks. Players with B ratings are considered possible second- or third-round choices, and those with C ratings are potential fourth-, fifth- or sixth-round selections.
Current NAHL Players
Cayden Casey, F, North Iowa Bulls – The 6'1/175 lbs. native of Elk River, MN, is off to a great start for his rookie season in the NAHL. The St. Lawrence commit had four points at the NAHL Showcase and has seven points in his first 13 NAHL games.
Chase Cheslock, D, St. Cloud Norsemen – Cheslock, who committed to play NCAA Division I hockey for St. Thomas back on October 6th, has put up one goal in his first 12 NAHL games. The 6'3/205 lbs. native of Rogers, MN, scored his first career goal, which was also the game-winner, on October 22nd in a 3-1 win in North Iowa.
Adam Gajan, G, Chippewa Steel – The 6'3/176 lbs. native of Poprad, Slovakia, is off to a solid start with the Steel. In 10 games played, he has posted a 6-4 record with a 2.41 goals against average and a .932 save percentage.
Thomas Kiesewetter, G, Corpus Christi IceRays – The 6'6/210 lbs. native of Plymouth, MA, has posted a 1-7-1 record in 10 appearances so far this season. The Princeton commit currently has a 3.37 goals against average and a .900 save percentage.
Chris Pelosi, F, Janesville Jets – Pelosi, who is committed to play NCAA D1 hockey for Quinnipiac, is off to a great start this season with the Jets. The 6'2/185 lbs. native of Sewell, NJ, is currently 2nd in team scoring with 10 points (8 goals, 2 assists) in 13 games played to date.
NAHL alumni in another league
Aaron Pionk, D, Minnesota Wilderness 2021-22 (Waterloo, USHL)
Kaden Shahan, F, Chippewa Steel 2021-22 (Sioux City, USHL)
Gavyn Thoreson, F, Minnesota Wilderness 2021-22 (Waterloo, USHL)